Are you a table tennis lover but don't have much space at your home? Then our Best Mini Ping Pong Tables list will blow your mind.
I knew that the regular table size is 9 feet long and 5 feet wide, which takes a lot of space, or some tables don't have a folding option. So indirectly, you need a special room for a ping pong table.
Don't panic!
If you are living in an apartment or don't have space at your home, I have done some research and bring some high-quality mid size ping pong tables that will help you choose a dream space saver table. These high-quality best compact ping pong tables take significantly less space and allow you to fold up any time and store it when not in use.
So without wasting time, let's start!
List Of 5 Best Mini Ping Pong Tables
#1. Butterfly Junior Ping Pong Table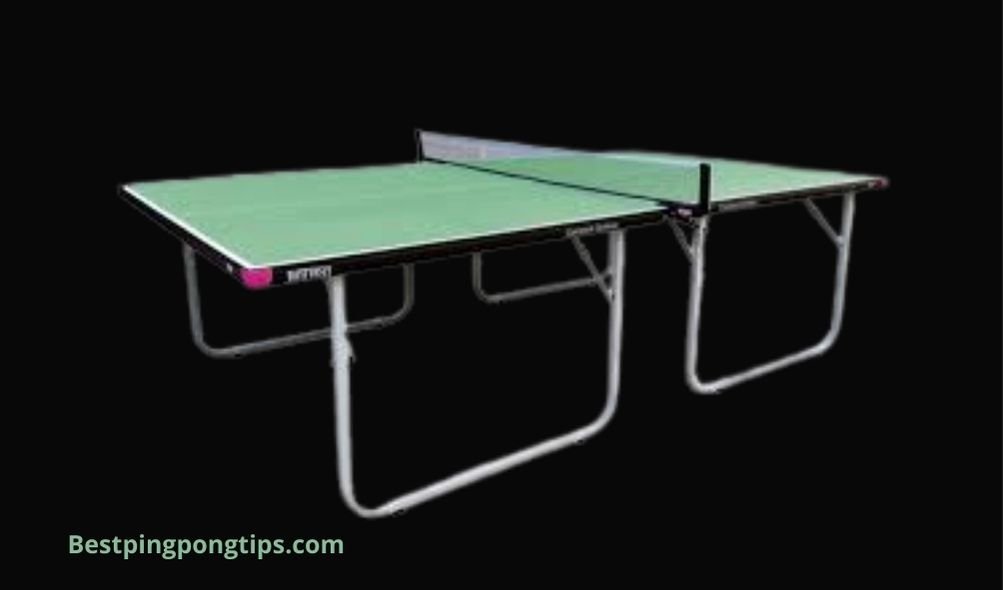 Our first choice is Butterfly Junior Ping Pong Table. This small ping pong table is a 3/4 size compact ping pong table that allows you to play at an apartment and other small locations where a full-size table can not be set up. This miniature table tennis table is slightly bigger than a mid-size table, and if we compare it with a large size, it's 2ft small in length and 1 ft small in width, which allows keeping the ball in play easy.
It is an excellent table tennis trainer for beginners to learn how to play table tennis games. The legs fold up, and two wheels are placed in the middle of each table's half, allowing easy movement and compact storage. Each half weighs approximately 35 pounds, making it a portable table tennis table.
The tabletop is 12mm thick and protected by a sturdy steel frame with beautiful magenta corner pieces that perfectly complement the bright blue or green top. This table tennis table comes with a user-friendly Butterfly Table Tennis Clip Net and a post set that's the same size as a regular net.
This space-saving ping pong table comes with 100% pre-assembled, which means you just need to open the box and start playing your first game. This butterfly company offers a 3-year manufacturer warranty, which shows brand loyalty and quality of service.
This mini ping pong table provides the value of money. So it's a better deal for you if you want some fun in the office area, home or your apartment.
#2. STIGA Space Saver Table Tennis Table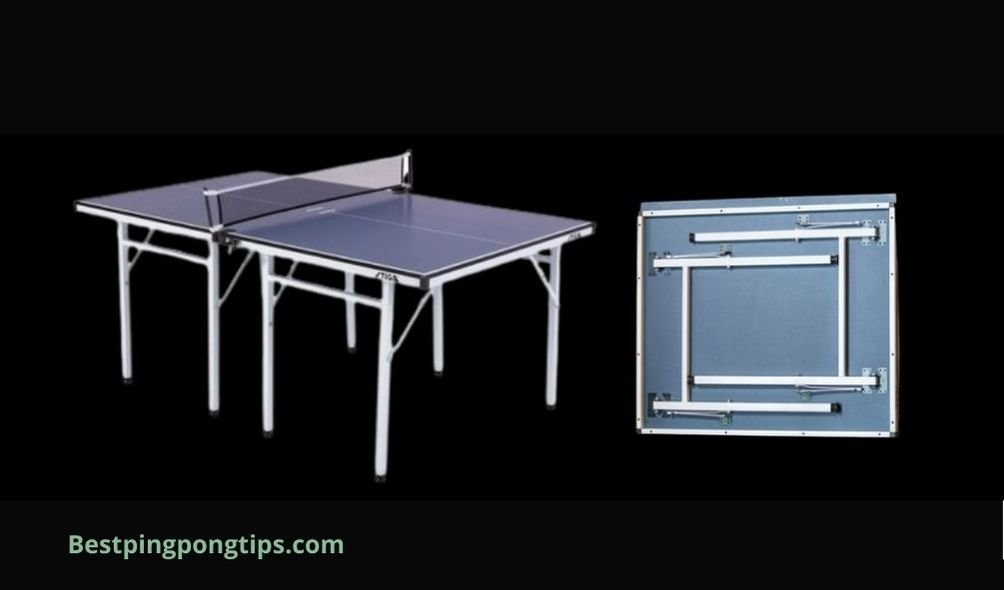 Specifications
Mini table dimensions: 109.2*99.1*12.7cm
Total Weight: 73 pounds
The material used: Alloy Steel, MDF Tabletop
STIGA Space Saver's name says everything, and this is our second best choice in top mini ping pong tables. 100% pre-assembly makes it more special you only need to open the box and start play. This table size is 71″ length is 40.5″width*30cm of a regular table with 65lbs total weight.
The width and length of the table are a smaller version of a standard table. However, the height isn't standard and is 30″ above the surface.
The tabletop's thickness of 16mm is among the top in its class, providing an excellent performance. The tabletop is coated with multiple coats of top-quality paint and silkscreen white strips to give an even surface. The undercarriage is built well and is constructed of a 1.25″ rectangular steel tube. Aprons of similar size cover the tabletop, which results in a consistent bounce of the ball.
This table with a budget can serve multiple functions. The table can host games on the board or as a table for dining (don't forget to bring the tablecloth).
However, I found the web pages to be a bit fragile and weak enough to withstand the force of fast smashes.
#3. JOOLA Midsize Mini Ping Pong Set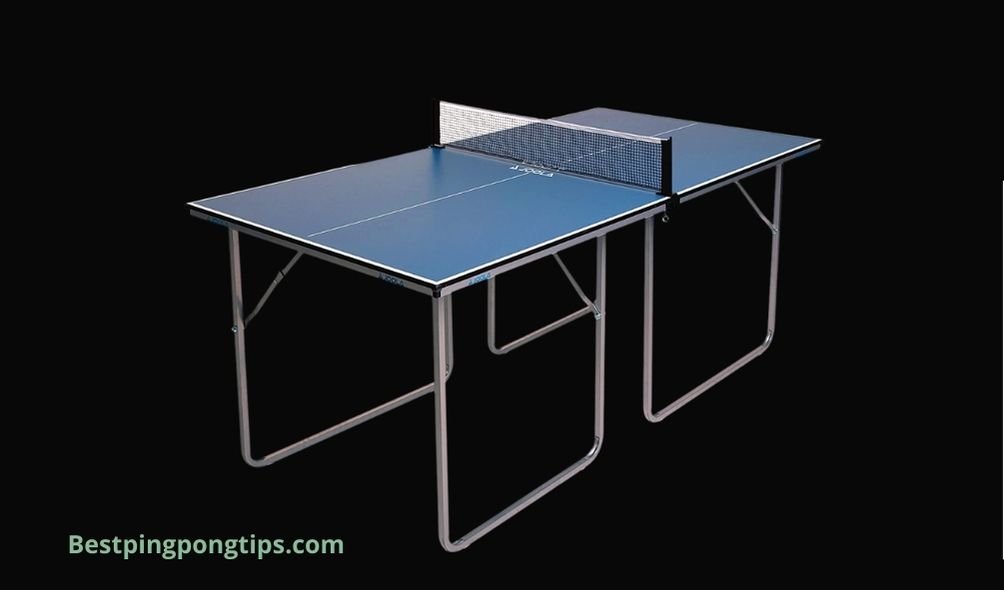 Joola Mid Size table is another mini tennis table that will adjust any small space. This table got more than 2500 five star ratings on Amazon, so If you live in an apartment and don't have enough room for a big ping pong table, it can be the ideal choice for you.
Joola is the most popular brand globally and consistently produces high-quality tables. Its multi-purpose table halves are fantastic to entertaining when not in play. You can use this for crafting, playing poker board games and other casino table games.
This space saver ping pong table comes 100% pre-assembled, so you don't need anyone to assemble this table, just open the box and start playing your favourite game, table tennis. It comes with 36*36 storage dimensions, which means you can fold up a table and store it under your bed. Along with this, it comes with a free net and post set, which is a great thing.
This is a good option for recreational players.
#4. GoSports Mid-Size Table Tennis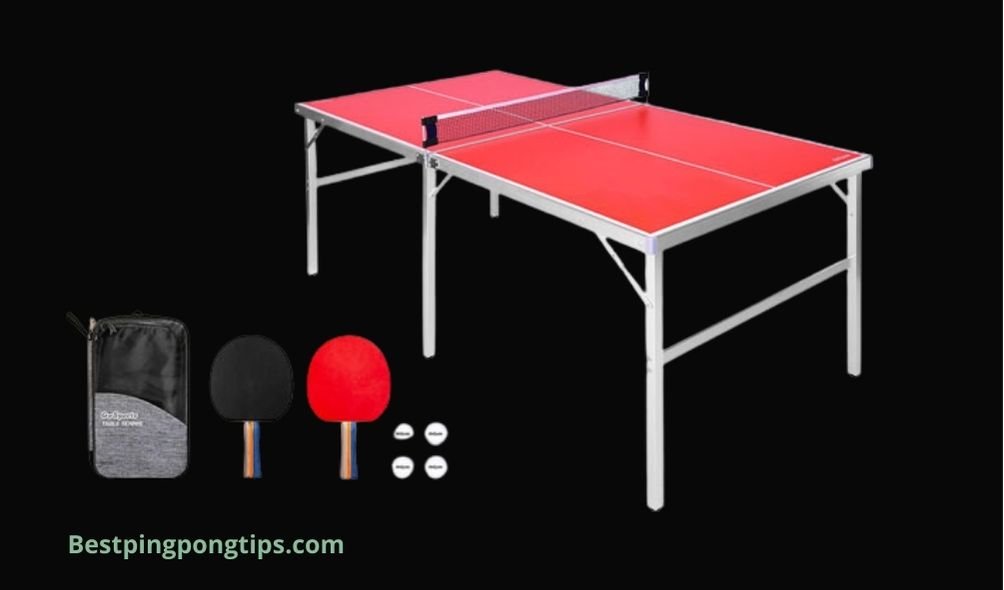 GoSports Mid-Size Table Tennis comes on my list because it is a complete package.
If you are new to tennis table games, this table is a gem for you because this is one of the few mini table tennis tables with free paddle and balls.
Gosport table surface dimension is 6ft long and 3ft wide, allowing you to play competitive games small enough to store them anywhere.
The next thing I like in this table is instant setup. Yes, you can fold it out for play and fold it up in some seconds to store it. Also, it comes with carrying handles that make it easy to carry in rooms, apartments, and your office.
This modal is constructed with very high-quality material. The heavy-duty aluminum frame helps keep the table solid, and the smooth table surface provides a perfect ball bounce over the table. Gosport is an indoor and outdoor table which means you can also use this table outside.
So if you are a beginner or living in an apartment then its great choice for you.
#5. Goplus Portable Table Tennis Table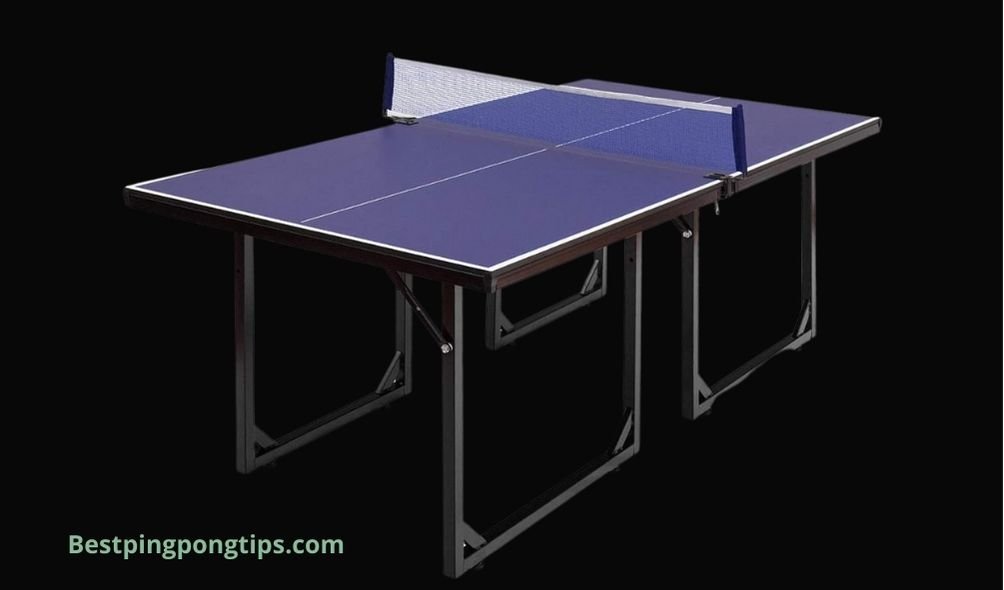 The last mini table is the Goplus ping pong table. It comes with 100% assembly. You don't need any tool, just unfold it and start playing. If we compare it with a large table, it saves a lot of time and effort.
This table comes with a carrying handle, making this convenient and safe locking system easy to transport and store.
The aluminum composite board with multi-layers coating surface offers more ball bounce over the table like professional tables. It comes with footpads that protect your feet from slipping and enjoying the game.
Goplus comes with free two paddles, two balls and a removable net, which means you don't need to waste your money on accessories.
Final Thoughts: Best small ping pong table
The bottom line of this small ping pong table is that if you are looking for the best ping pong table for small spaces or staying in an apartment, then choose Butterfly Junior or STIGA Space Saver. Both these tables are amazing and come with high-quality materials. They are made by well-known brands, so without wasting your time, pick your mini table for your next game.
Frequently ask questions
Are mini ping pong tables good?
Mini ping pong folding table are great for small spaces, apartments and other tight spaces. They're also an excellent option for people who want to start playing the sport but don't have the space or money to get a full-size table. These tables are smaller than regular tables, so you'll need to adjust your strategy when playing. Compact ping pong tables can be used indoors or outdoors and come in various colors and designs.
How big is a mini ping pong table?
Miniature ping fbest ping pong table for small spacespong tables are a great way to practice your skills. Small pong tables come in all sizes, but they typically measure around 4 feet by 2.5 feet and have the standard height of 2.5 feet. These miniatures are mainly used for fun, and it's an excellent way to teach young players how to ping pong game.
What is the size of the ping pong table for kids?
For kids 4'6″ long with a width of 3′ and 2′ tall, and weighs just 30 pounds. Its one-piece design effortlessly folds away so you won't lose anything while taking it to your place of playing. Ping pong table net and post set are included and require no assembly.
Is a 7ft table tennis table too small?
The standard official International Table Tennis Federation ping pong table size is 9′ long, 5 wide and 2.5 high. 7ft table tennis taable is smaller than the standard table size, but you can still play a good game with your friends without losing quality.  
What Colour should a table tennis table be?
The most common tabletop surface is blue or green, but less commonly grey or black.ITTF regulations require a 2cm white line around the entire playfield edge. And for doubles, the table should be divided into half with a single 3mm white line. The colour is most often applied with roller paint.
How big is a mid size ping pong table?
Are you confused about How Big Is a Mid-Size Ping Pong Table? Well, 2/3 the size of full-size tables, medium size ping pong tables come around 72" x 36" x 30".
Do ping pong tables come in different sizes?
Midsized ping pong tables are available in various sizes. They can be as small as 54 inches (137.2 cm) in length, and 30 inches (76.2 cm) in width. However, like Butterfly Junior Butterfly Junior, they can be as large as the size of 81 inches (205.7 centimeters) long and reach 45 inches (114.3 cm) in width.
How much floor space is needed for a ping pong table?
For playing ping pong, it is recommended to have a minimum of four feet of extra space at either end of the table and 3 feet between the sides. Ideally, you will have more room. However, you can enjoy some fun Ping-Pong with that more space.
What is the size of table tennis table?
The table. The table's top surface, also known as the playing area, measures 2.74m in length and 1.525m wide. Its width is horizontally 76cm above the floor. The playing surface doesn't comprise the sides that are vertical to the tabletop.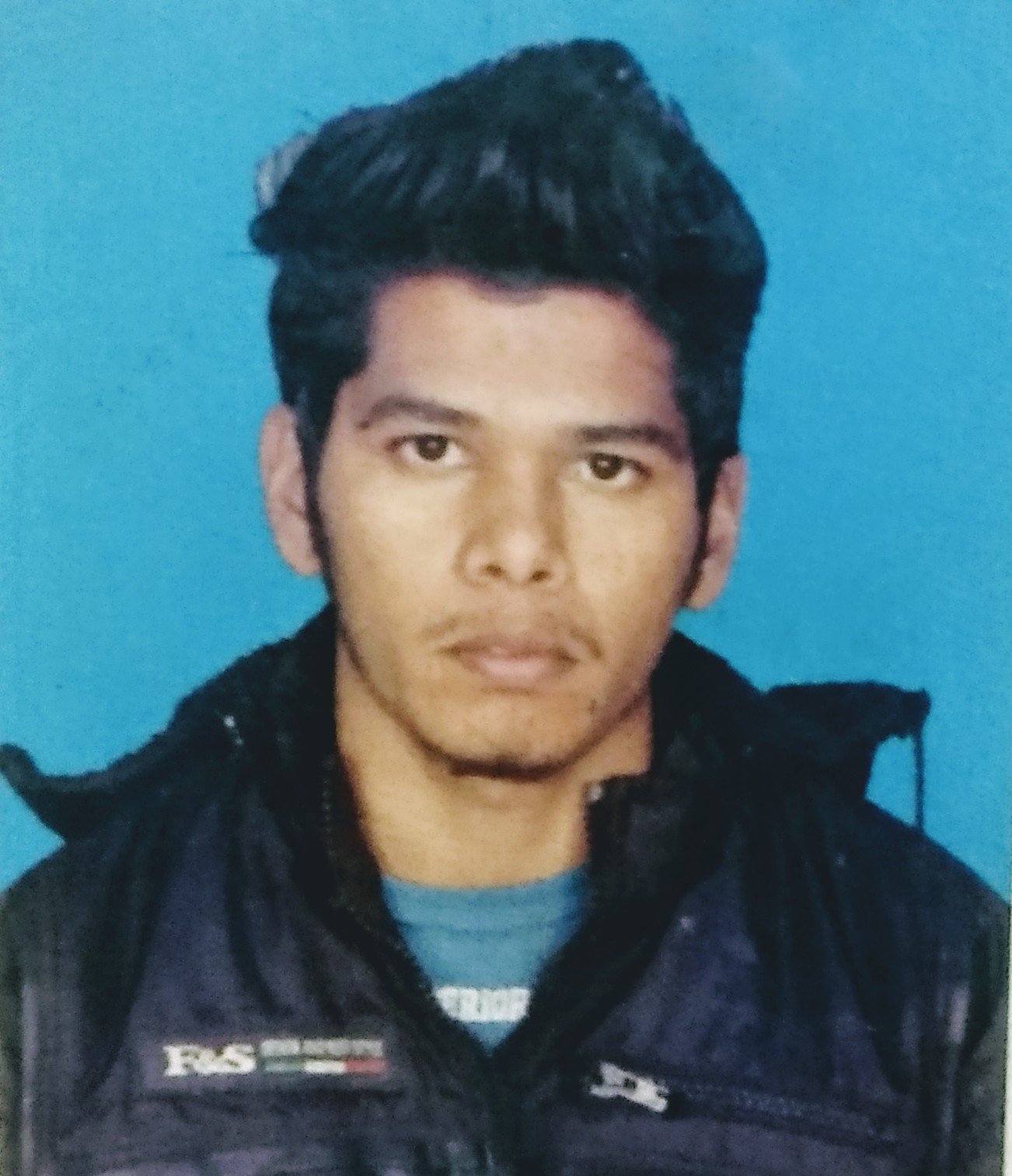 I am Sachin, a content writer, and Table Tennis enthusiast. On the Bestpingpongtips site, I share ping pong tips, give my honest Table tennis equipment review, and help people choose a quality product.