Do you want to purchase a ping pong table but don't have storage space at your home or garage? Don't worry; we come with some of the top best outdoor ping pong table that will solve your problem without breaking your pocket.
Outdoor table tennis table made with unique, high-quality materials helped protect the table from all weather. There are tons of options in the market that make it difficult to which one is best for you.
To help you buy the right table, we researched the market and collected some details you need before purchasing the table. We have picked the top buying ping pong table in the market and curated a list for you to help you choose a high-quality table tennis table. Check out the given below list before making your decision.
List Of Top 7 best outdoor ping pong tables
#1. JOOLA NOVA Outdoor- Editor Choice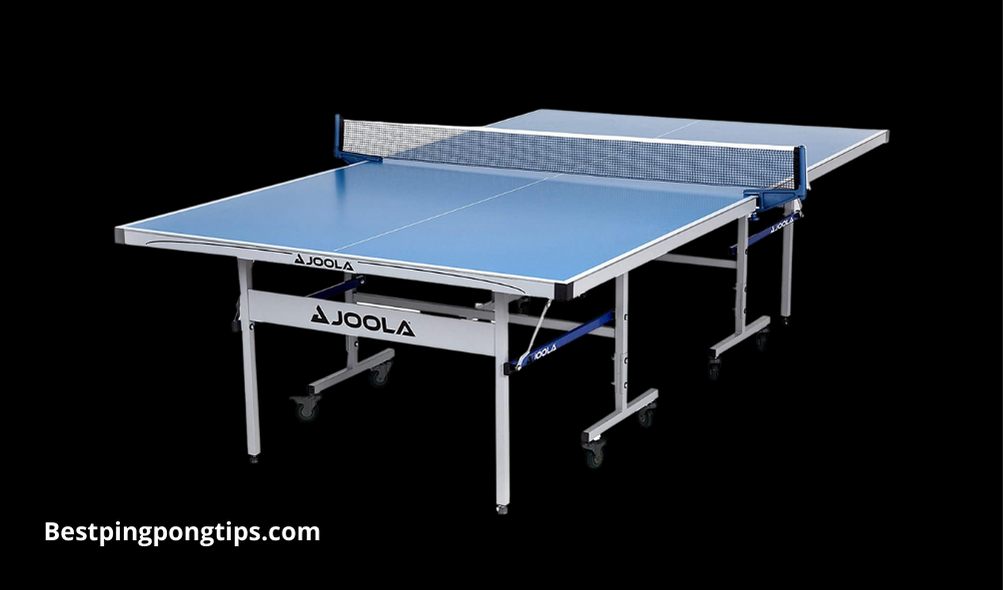 Features:
Dimensions 9 x 5 ft
Aluminum composite surface 6mm thick and 30mm x30mm powder-coated undercarriage
Adjustable levelling feet, double anti-tilting devices
Locking casters for 3in wheels
Foldable
The JOOLANOVA is the first table in our top list of best outdoor table tennis tables. The cheapest option for those looking for outdoor ping pong tables that can withstand being outside all year is the NOVA.
You can start playing your game on this table almost immediately, and it takes only 15 minutes to put together.
The 6mm thick aluminum composite tabletop does not offer a lot of bounce but is still very durable at this price.
The table's frame is completely waterproof, and the legs are strong, 30 x 30mm thick aluminum that has been powder coated to prevent rust. However, it is weatherproof.
Pros:
all-weather table tennis: This is a Weatherproof table.
It takes only 15 minutes to assemble
Locking casters on wheels and adjustable levelling feet
Cons:
Poor bounce; surface not a very thick
Aluminum is not as durable as wood composite surfaces.
#2. JOOLA Outdoor Aluminum – Cheapest Table Tennis Table
Features:
Dimensions 9 x 5 ft
Aluminum composite surface 6mm thick and powder-coated undercarriage 30mm x 30, mm resistant to rust
Adjustable leveling feet, double anti-tilting devices
Locking casters for 3in wheels
Foldable
Next up on our list is JOOLA Outdoor Aluminium. It is similar to the JOOLA Pro, but it is $60 less. This table has adjustable leveling feet, anti-tilting and is all weatherproof.
This makes it an excellent choice for an outside ping pong table. The 6mm thick surface makes the bounce less than the JOOLA United Pro table.
Pros:
Fully Weatherproof
It takes only 15 minutes to assemble
Locking casters on wheels and adjustable leveling feet
Cons:
Poor bounce; not a very thick surface
Aluminum is not as durable as wood composite surfaces.
#3. Butterfly Playback Outdoor Rollaway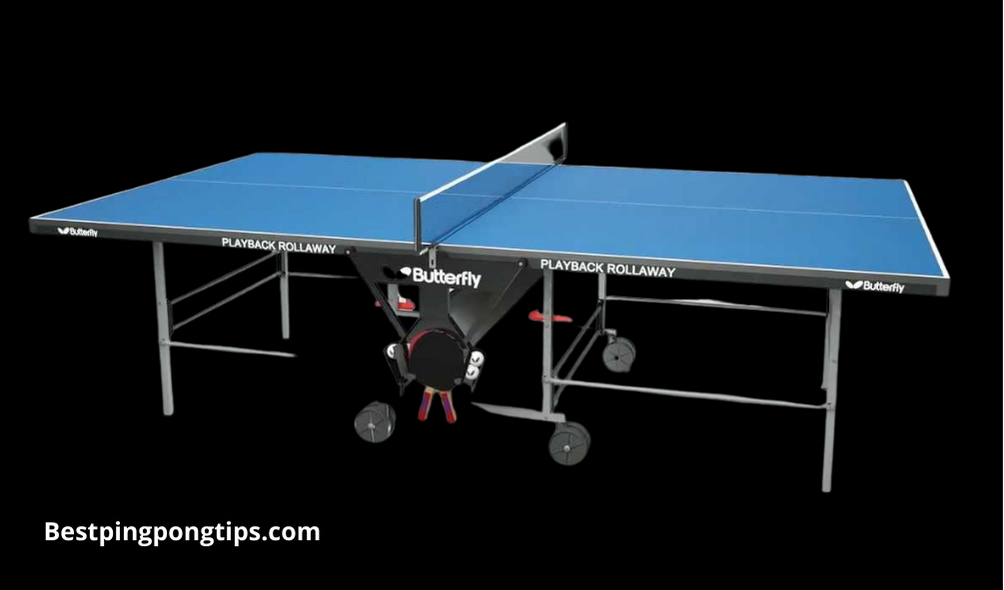 Features:
Dimensions 9 x 5 ft
Synthetic laminate top
In storage, the net remains attached as well
Playback mode available
It comes with a 3-year warranty
The Butterfly Playback Outside table is sturdy and offers excellent value for money. This table has a synthetic laminate top (SLT) placed on top of a strong frame, and you can use it in any hard weather conditions. This table is Butterfly's most loved outdoor table in the market.
This table is durable, folds into playback mode, and comes with a 3-year warranty. The table's 6mm top isn't the thickest you can get.
Pros:
long-lasting table
Comparatively low weight
In storage, the net remains attached as well
3-year warranty
Waterproof ping pong table
Cons:
Lower thickness than other models
It takes time to assemble
Individual leg levelers are not available
#4. Butterfly Compact Outdoor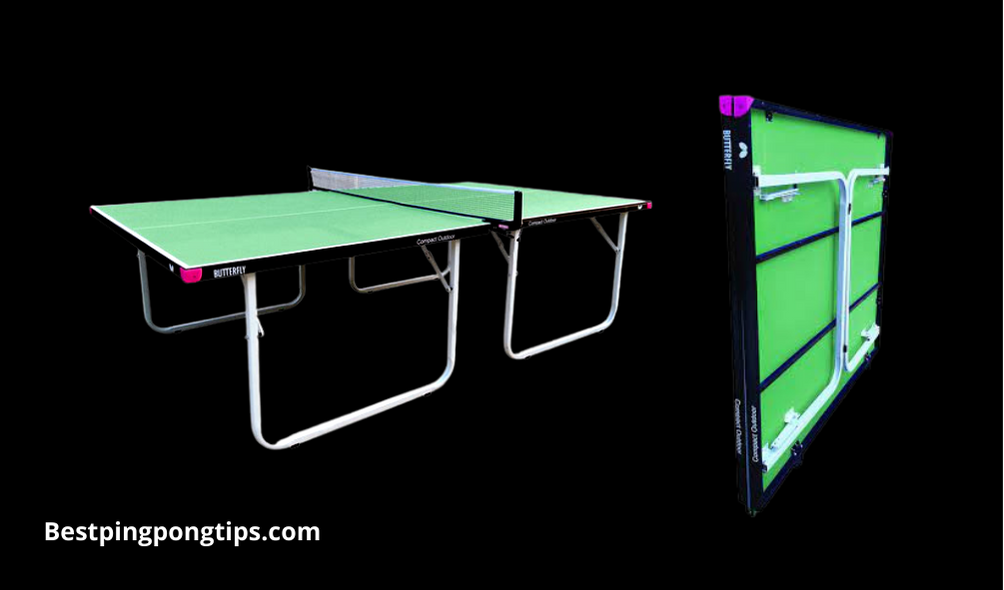 Features:
Dimensions 9 x 5 ft
Top of resin-treated plywood 12mm thick
Foldable Feature
3-year warranty
The Butterfly Compact Outdoor table comes with a 12mm resin-treated plywood top. This is a best outdoor ping pong table! It folds up, has decent bounce (certainly better than that aluminum counterparts), and comes with a 3-year warranty. It doesn't require assembly so that you can play right out of the box. However, it doesn't have individual leg levelers, so that it won't work well on uneven or rough surfaces.
Please read our review on the Butterfly Compact Outdoor table for more information.
Pros:
Fastest assembly
Foldable and easy to store
12mm Surface Thickness
Resin-treated plywood is superior to aluminum
3-year warranty
Cons:
Individual leg levelers are not available
Not fit for uneven or rough surfaces
#5. Stiga XTR Outdoor Table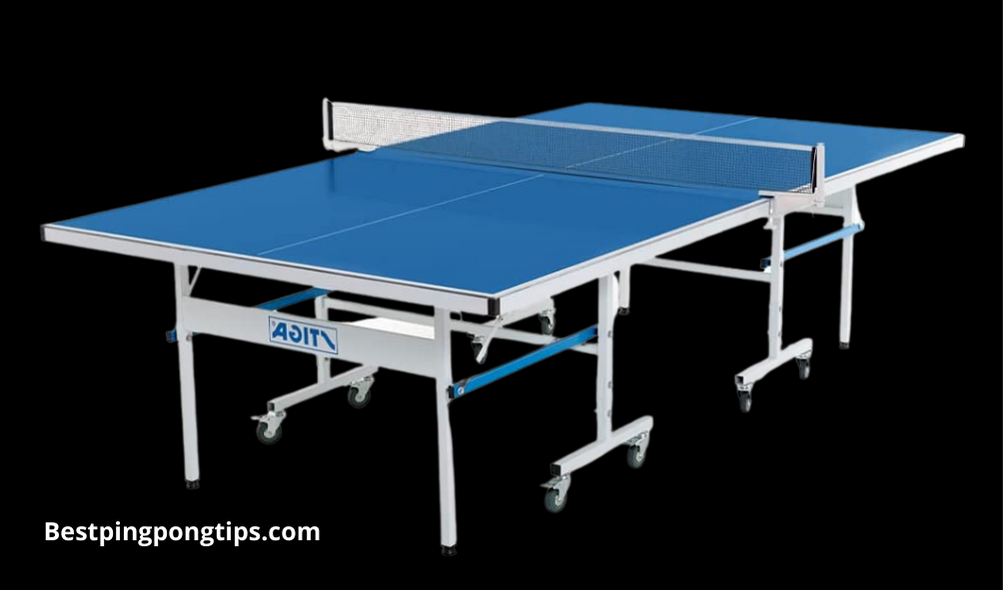 Features:
Dimensions 9 x 5 ft
Aluminum composite top
Foldable
10 minute assembly time
The Stiga XTR table is a popular option for outdoor table tennis tables. This table price makes it an affordable choice. The table can be turned into playback mode, has leg levelers and is entirely waterproof. This model is also one of the cheapest at $500. The aluminum composite top doesn't bounce well as the wood composite tops.
Pros:
Assembly takes 10 minutes only
Playback mode available
Adjustable leg levelers
One of the cheaper outdoor aluminum ping pong table
Cons:
Comparatively thinner than other models on the list
#6. Kettler Outdoor 4
The Kettler Outdoor 4 is my another top choice if you want an outdoor table. This is a great model by the German manufacturer Kettler Outdoor 4. This table comes with a 22mm thick composite top that gives it extra bounce.
This table is an excellent choice for outdoor playing.
22mm weatherproof play surface is the main reason. It is made of a mixture of aluminum and ALU-TEC Climate-Control underneath, which allows for a natural bounce and long-term durability. The surface has two layers of coatings and a UV-resistant finish for long-term protection.
The Kettler Outdoor 4 is a tremendous outdoor ping pong table. It has a consistent bounce and a fast speed of play. This table is ideal for recreational and beginner players. However, it's also great for advanced players who need a table that matches the indoor table tennis bounce. The Outdoor 4 is the best option for indoor play surfaces when bouncing.
The Kettler's play area is 9′ x 5ft. However, both halves can be folded to make it portable and save space. You can also use the ball box and four wheels to move around the garden.
The Outdoor 4's biggest problem is its price. The Outdoor 4 is a costly model even when it's on sale. However, this is expected if your goal is high-quality outdoor performance.
Summary The Kettler Outdoor 4 table is an excellent choice for an outside table. It is durable and offers bounce comparable to indoor models. There are also many extra features like ball storage and net. Only problem is the cost.
Table Thickness 22mm
Table Material : Alu-Tec (coating + aluminium + resin-treated boards)
A 22mm playing surface gives you a great bounce consistency and makes it easy to play a good game
Foldable and store away when not in use
Cons
It's expensive, but worth it.
#7. Cornilleau 540m Crossover Outdoor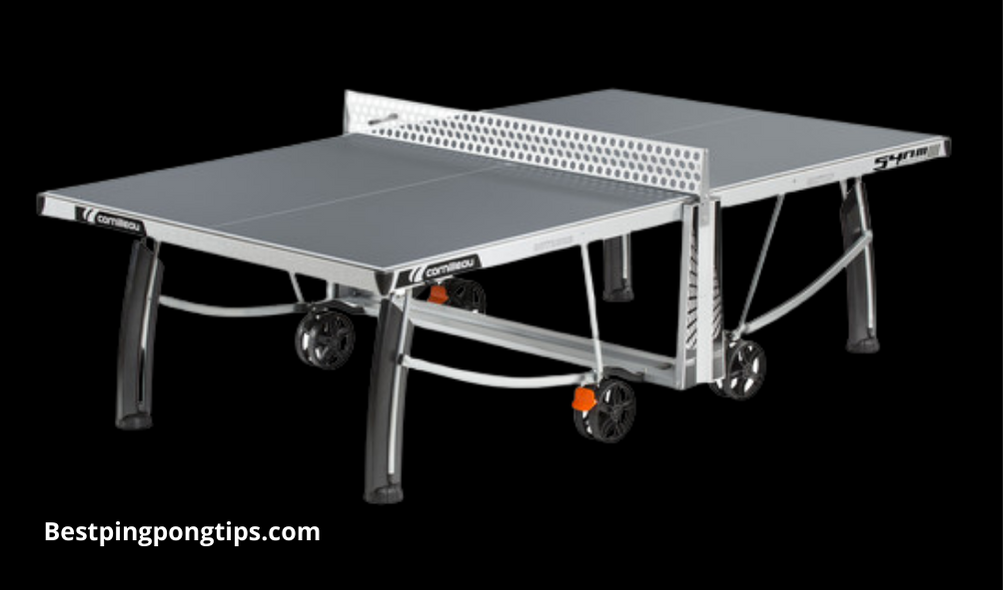 The Cornilleau Crossover 540m Indoor and Outdoor Table is a top choice if you are looking for an indoor and outdoor table. The Cornilleau 540m Crossover is durable enough to withstand outdoor conditions and bounce well for indoor games.
Why is the 540m so expensive? First, the playing surface has a 7mm resin laminate. The top layer is glare-reducing, improving ball visibility and making the table weatherproof.
The table also comes with large 8″ wheels that are fit for outdoor use. Although smaller wheels might struggle on more rugged terrain, the table's 540m length can be easily moved around in any garden. This table is made of strong, galvanized steel and has a secure locking mechanism.
It folds quickly and smoothly, as you'd expect from a premium outdoor model. Although it can be challenging to assemble initially, it is a joy to use once you have it set up and folds away easily. It has a fixed metal net that plays differently to traditional fabric nets.
Summary The Cornilleau Crossover 540m is an excellent table for indoor and outdoor play. Although the surface is not thick enough to allow for severe play or high-level practice, it offers decent bounce and is excellent for beginners or recreational games. The Kettler table tennis table is an outdoor table tennis table that matches indoor models in bounce.
Table Thickness 7mm
Table Material – Laminate Surface
Price range : $$$$$
The most durable table on the market
Excellent bounce for the 7mm top
Why An Outdoor Ping Pong Table?
Pingpong is mainly played indoors, it can be played outdoors in the right conditions. There are even unique outdoor tables for this purpose.
Outdoor ping pong table are robust, reliable, and easy to transport. These tables are made for outdoor use to use in any weather. Although it is not recommended for furniture to be placed outside, outdoor ping pong tables can be an excellent addition to your backyard or lawn.
These tables can be used in offices, campuses, or schools/colleges. A sturdy outdoor table is the best option for the table's ability to withstand constant, rough use, such as children/adults sitting on it or bumping into it. Outdoor tables are not designed to withstand that kind of abuse and can become unplayable.
Things to Consider Before You Buy A Ping Pong Table
Ping pong tables are a large investment, they can last you for many years. It is essential to choose the right table for your needs. We will be discuss some important things you should consider before purchasing a ping-pong table.
Difference between indoor and outdoor ping-pong table
Outdoor ping-pong tables have an additional weatherproof feature that protects against the elements such as rain, sun, snow, wind and other natural elements. This is what makes them different from indoor models. This significantly influences the construction of their tables and other adaptability features.
Indoor table tops are typically thicker and made from wood optimized for performance. Outdoor tops, however, are usually thinner and more weatherproof.
The effects of natural elements can lead to rusting, warping and discoloration. Outdoor ping-pong tables avoid this with an anti-glare finish and rustproof galvanized metal legs. Leg levelers are also available to help with uneven surfaces and can be used as a support structure.
The natural bounce of the Ping-pong ball is affected by the tabletop's thinness and any weatherproof modifications made to outdoor models. Strong gusts of winds can also affect projection. Manufacturers have made heavier balls to correct this problem.
You can play indoor games with most outdoor ping-pong tables. Indoor tables, however, are best for competitive players because of their thick, high-quality wooden surfaces that give a true bounce.
Consider these features when choosing an outdoor ping-pong table
Here is detailed factors that make outdoor ping-pong tables the best. To help you make your choice right, we have provided examples of models and brands that include these features.
Size
A ping-pong table can be placed outdoors, so you don't have to worry about limited space. Any size can be installed anywhere, even in the backyard.
Your level of play will determine the size of your table. A standard tournament table for ping-pong measures 108 inches in length, 60 inches wide, and 30 inches high. National competition tables measure 144 inches in length and 72 inches in width, while international games have a table length and width of 168 inches and 84 inches, respectively.
The dimensions of outdoor tables can vary in terms of their playback, storage and playing capabilities. Most outdoor tables can be folded, except those made from stationary materials like Cornilleau Outdoor Stationary 510M. STIGA XTR, for example, folds down to a significantly smaller size, measuring 108 inches in length, 60 inches wide, 30 inches high, 64 inches wide, and 60 inches tall, respectively. Outdoor models can be adjusted to lower the height for children.
Folding capability
Outdoor tables are heavier than indoor ones due to the modifications that must be made to handle natural elements. This can impact their movement, storage, and assembly. Most models come with foldable or collapsible features, which can be quickly taken apart and disassembled afterwards.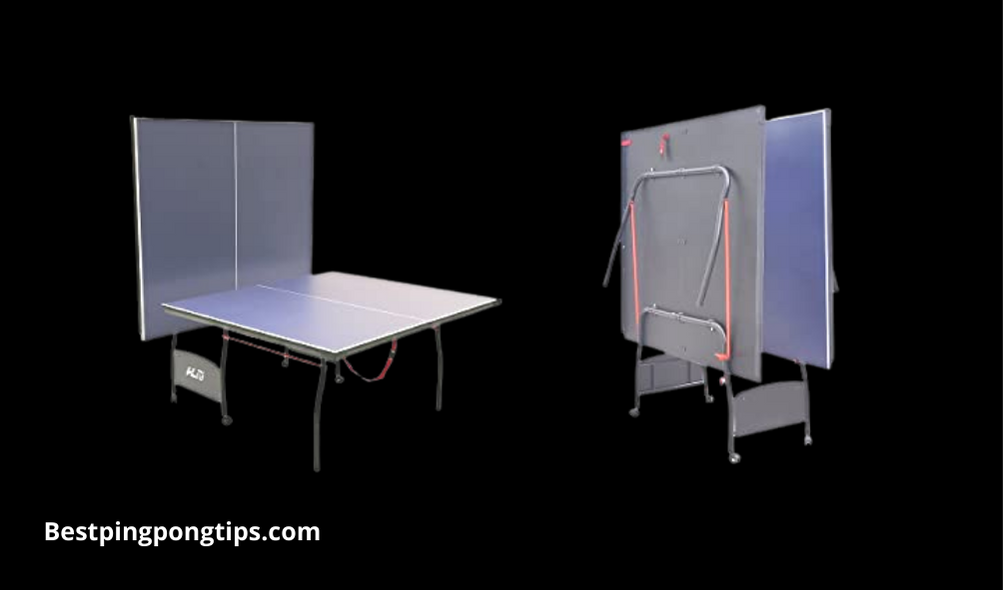 The thickness of the surface
The playing surface thickness is a key determinant of the table's quality and performance. A thicker table will give you a natural bounce.
For outdoor tables, the weatherproof surface is thinner at 4 to 7 millimeters to allow other protective materials. This results in a lower bounce quality than indoor tables with solid wood tops. Professional players should only play indoor ping pong tables.
Outdoor tables should have a minimum thickness of 6mm to ensure a good bounce.
Material of surface
Your play's quality will be affected by the material used for laying the surface. Indoor table tops are optimized for ball performance, while outdoor tables emphasise protection and resilience from the weather.
Solid wood is used for indoor ping-pong tables. However, it can be damaged by direct sunlight and moisture. On the other hand, outdoor table tops are made of thin, weather-resistant aluminum, stainless steel, laminate, anti-reflective finishes, and melamine coatings.
Because it is lightweight, weatherproof and rust-resistant, aluminum composite is most commonly used for outdoor table tops. Various surfaces can also be made from resin-treated wood, such as Butterfly Easifold's compreg top.
Portability
A fixed table is best if you plan to put your table in a game area. Many people require the table to be portable. They need to be able to fold it up for transport or storage. Fixed tables can also be folded up with wheels, but they are more expensive.
Net and posts
The net should not sag or rip, be weatherproof, durable, adjustable in height and tension, and be strong enough to withstand the elements. For support and stability, the post must be weather-resistant. Posts are mostly made from steel, while nets are made from nylon, plastic blend, or steel. To make assembly of the table easier, manufacturers often include posts and nets in their packages.
Options for safety
To keep you safe, outdoor tables come with various safety measures. These include safety latches and dual locks to prevent accidental opening and closing of the table. Lockable wheels can also be used to avoid sudden movement.
Accessory
Additional accessories add value to your outdoor table. You can either purchase the paddles or balls separately. You can store your balls and paddles in the built-in accessory holders or ball dispensers on some models.
Warranty
The Ping pong table warranty period shows how confident the manufacturer is in the table. An extended warranty is essential due to the amount of Ping-pong that outdoor tables are subjected to and the natural elements they are exposed to. Cornilleau 510M Outdoor Stationery is covered by a 10-year warranty for manufacturing defects.
Final Thoughts: Best Outdoor Ping Pong Table
A pingpong table outside can make a great addition to your home. Outdoor tables are not recommended for recreational use (except for the Kettler Outdoor range), but they can be used for fun with friends or family and a few drinks on warm days.
It all depends on the purpose of the table. You should choose carefully which table you select for your family.
Here are my top recommendations to summarize the article:
The Kettler Outdoor4 is the best outdoor table tennis table. Its 22mm playing area can be used to match indoor tables. It is also very durable and easy to fold. The Kettler is an excellent choice if you have the money.
The Joola Outdoor Table is an affordable option for family games and recreation. It is durable and has a good bounce. This table offers excellent value for money.
I hope you found this article helpful in choosing the right outdoor table tennis table. You can ask anything in the comment section if you have any questions. Thank you for reading!
Also check:
Top 5 Best Ping Pong Table Under $500: Budget killer In 2022