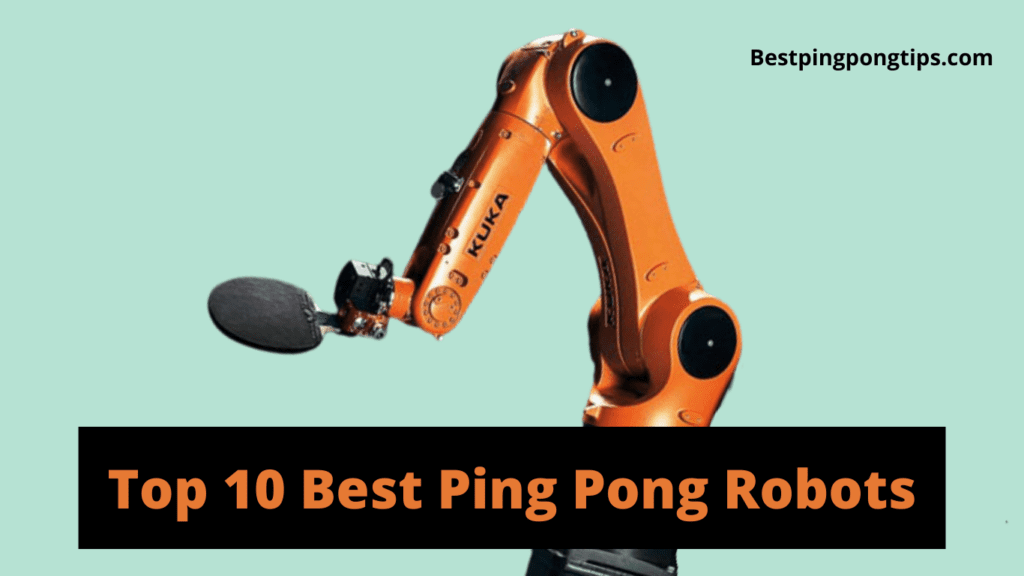 Are you a serious tennis table player and want to boost your ping pong skills? You need to practice a lot in table tennis because practice makes perfect. Just playing against the wall will not help you to make perfect shots. Finding a partner eager to play regularly with you is also challenging. The solution is to purchase the Best Ping Pong Robots to compete against yourself.
A good ping pong machine has different features and abilities designed to suit all players' levels.
In this post, we are going to review some of the top robots so that you can select the best ping pong robot for practice.
What is a Table Tennis Robot?
When we talk about "table tennis robots, " we refer to "table tennis ball machines". These electronic devices shoot ping-pong balls at you to practice without any partner.
The first table tennis robot was invented by Joe Newgarden (the founder of Newgy) in 1988. So ping pong players from all over the world have used robots to improve their game for more than 30 years!
Step By Step Buying Guide: How To Select Best Table Tennis Robots
Different Types of Table Tennis Robots
The decision to purchase robots is not a small thing. You should know your level of play.
While some table tennis machines we suggest are less than $500, some ping pong ball machines are more than $1000, and some are barely under $2000. There is a wide range of prices.
So with that thing in mind, you need to research before buying your own. We've discussed every feature you'll need to think about in this article.
Technical Features to be considered
There aren't all robots with similar features or capabilities, so think about the specs before hitting that buy. Here we'll go over some of the features that we believe are important so that you think about which feature you need in your table tennis machine.
Can it create a good amount of spin?
To be the best table tennis training robot, It must produce spins that are topspin or backspin or even no spin in any way. Basic models are capable of two or three kinds of spin. You'll require changing the setting to modify the spin. The more sophisticated models can also randomize the spin of the Pong ball to play an even more complex game.
Some of the most advanced ping pong ball machines produce bi-directional spin that human players cannot achieve. Although this isn't an exact way to play against a human opponent, it can sharpen your game to respond to unpredictable throws.
Speed and frequency
Ball capacity
Table tennis robots typically hold between 100 and 200 balls at a time. More sophisticated, more giant robots come with an encapsulation net that collects and feeds balls to ensure uninterrupted playing, which is highly convenient.
If you're searching to buy large quantities of ping pong balls, we suggest that you purchase the Sanwei ABS 1 star 500 balls, which are great for practice and similar to the 3 more expensive star balls.
Ball placement
The ability to have your robot deliver the ball to an established location is beneficial when you wish to improve your shot and test a specific kind of shot. Some are incredible accuracy in their placement also. Other models have settings that change how, where the ball will land, and they can also rotate for throwing the ball using greater variations.
Pre-programmed drills
Advanced and intermediate table tennis machines let you play pre-programmed drills that will help you improve your game. A more advanced model may have more competition-oriented drills, and some even allow you to program your exercises.
Battery-powered, or connect to the mains?
Is your table tennis table placed in your backyard or garage far from the nearest electricity socket? If yes, it's better to use an electric robot to charge it and set it up for your practice session.
Remote control
Some table tennis robot robots have wireless or corded remote control features that allow you to change settings at a distance. It's convenient to switch between the settings from another end of the pingpong table, rather than having to walk around changing it every time you need a different kind of shot. This is why we suggest looking for wireless remote control. The most expensive ping pong machines come with a mobile phone app that can be extremely handy, but they usually are a bit more expensive.
Setup and Portability
How simple do you want the setup process to be? A good pong machine should be ready and start within a few minutes. Along with this, your robot can move quickly to store when you are not using it. Some tennis robots are huge and heavy, not easy to carry.
Table Tennis Robot Accessories
We'd recommend purchasing some ping pong robot accessories to make your experience more enjoyable.
Net for ball catcher
It is essential to use a ball catcher net placed behind your robot. So that ball catcher net loses all the balls on the floor and saves your time to pick them up again and again constantly.
We're using the Carbon Fiber iPONG catch net that does an excellent job and isn't too expensive.
Ball picker
This alternative of ball catcher net is to use a ball picker such as The My Ping Pong Buddy that is a must-have for anyone who doesn't wish to suffer an injury to their back due to constantly bent over to grab Ping Pong balls!
Top 10 Table Tennis Robot Reviews
After discussing a few of the features you'll need to be aware of, we'll review our top table tennis equipment. We've already mentioned a huge variety of costs and budgets, and we've tried to provide different prices.
#1. The Power Pong Omega – Ping Pong Trainer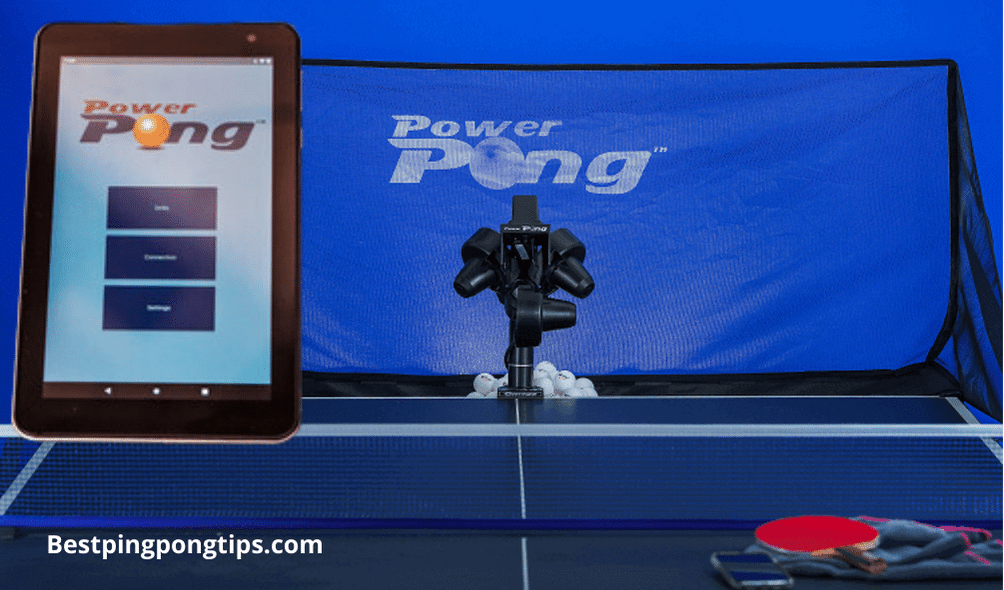 Suppose you're serious about searching for the best ping pong automatic ball machine in 2022 and one that even professional table tennis players will be satisfied with. In that case, you must check out Power Pong Omega.
It's is far better than other ping pong training robots available in the market, and that will surprise you with its versatile features and capabilities.
It is the upgraded model of Power Pong 5000. It has its tablet, and you can also be controlled by your iPhone, iPad, or Android.
This is the Butterfly Amicus Prime model and is similar in appearance and specifications, and even it's manufactured in the same factory.
This robot allows you to create drills with up to eight balls that will provide you with a lot of flexibility in your training.
You can store 99 drills on the control box and unlimited exercises using the Bluetooth app, which lets you operate it with your mobile.
Pros
 You can set up the type of spin speed, frequency, speed and trajectory  
  33 Drills saved inside each memory slot  
  Ball recycling net  
  Preprogrammed drills  
  Three-year warranty  
Cons
Highly recommended ping pong robot, and if it's over your budget, then there are two more models with lower prices and features The Power Pong 2001 (which we'll discuss in the future) along with Power Pong 3001. Power Pong 3001, which are worth looking into.
#2.Newgy Robo-Pong 2040+ table tennis robot
Our top pick for ping pong robots balances cost with features, giving users a reliable all-around ping pong robot. The Newgy Robo-Pong may not have all the features found in its larger brother, 2050; however, it has an affordable price and is, therefore, more affordable, especially for beginners.
The most suitable ping-pong robot for people is a digital controllers system. The new model has analogue controls to make more simple adjustments and achieve the power and speed you want. By turning just one knob on the control, you'll be able to alter the frequency at which balls appear and also give a spin to the balls.
Unfortunately, other robots that only provide a couple of shot options allow you to select between the six shorts available. It is possible to use the Serve option to know how to return the shot or use the lob option to test whether you can hit back when a ball is lobbed in your direction. Other settings will allow you to practice returning shots and play with a partner.
You can also alter the ball's spin once it's come from the robot. Instead of offering a topspin and backspin options, you can choose a combination spin or sidespin that can move towards the left or right.
Many customers like this model due to how fast they can put it together. It can fit on every ping pong table and has baskets that can hold all of your balls.
Although there are some drawbacks to this robot, Many users complained the power cable on this model was not long enough, so an extender was required.
Ping Pong robots allow you to practice and increase your skill on your own and at your own pace. When you consider your requirements as a player and your budget, you'll be able to select the best robot for your requirements. Then, you can begin to dominate your recreation area or club.
Pros
It comes with 200 balls large capacity
Multi-modes of practice and playing
Very easy to install, remove and move, then store
Excellent analogue controls for ball speed
Excellent customer service
Cons
 Beware to avoid getting jammed  
#3. IPONG Trainer Motion (Cheap ping pong robot )
The iPONG Trainer Motion is an upgrade to the iPong V300 and is a basic, compact ping-pong robot with many features and a compact footprint. It allows you to control the number of balls that are shot per minute.
It also has side-to-side oscillation, topspin, as well as backspin. This tennis table robot can hold up to 100 balls and fire at speeds between 12 and 70 per hour. In addition, this fantastic small robot has tilt stands to expand the range of strokes and wireless remote.
This iPONG trainer motion features a programmable memory that can save your settings and has a digital display that makes it simple to configure and manage. You can set up in only minutes and operate on standard AC power.
Pros
Simple and Easy to set up, quickly we can move and store
Wireless remote, digital display and memory onboard makes it simple to select and change your settings
It is possible to tilt the device for a more comprehensive selection of stroke positions
Low cost
Cons
  You can't adjust the speed independently settings. Changing the backspin and topspin settings alters the speed  
  Sometimes, it can be inconsistent. jam  
The IPONG Trainer Motion is a fantastic, cheapest table tennis training robot machine for beginners to learn and master of the game. It's simple to set up and use. The capability to save all your preferences in memory and utilize the remote control allows you to switch between various types of strokes easily. The product is currently available in a bundle that includes 80 balls with a pick-up net, making it an even better value!
#4. Butterfly Amicus Prime
The Butterfly Amicus Prime robot comes with tablets. Its app is called the Butterfly Amicus app (which you can also use with your Android and iOS smartphone) to manage the wide variety of settings and the pre-programmed drills.
This package also has a tiny remote resembling a key-fob control to allow quick pauses and frequency adjustment.
The application combined with the Butterfly Amicus Prime table tennis robot means that you can use the 10 standard shots included or control the ball's speed from 5 to 120 per minute and control spin, speed trajectory, speed and ball position.
You can also reverse or mirror settings to switch your dominant hand or practice backhand and forehand without changing other settings.
It also allows choosing to randomly play each of these strokes to alter the game and include interval training.
Butterfly Amicus Prime comes pre-programmed with 21 workouts designed by Table tennis trainer Richard Prouse.
You can watch an instructional video within the app to understand how best to execute. Exercises can be modified and substituted, and you can do your exercises and save them to memory. The activities can be sequenced to run on autopilot or randomly.
The Butterfly AMICUS Prime comes with a tablet computer, a small remote, a Reloading and collection net, and a storage bag for carrying. It's an excellent upgrade over Butterfly Amicus Professional, which does not use the application.
Pros
A wide range of exercises and shots, as well as the capability to randomly alter them, to create the challenging and realistic solo practice
It comes with a tablet computer and collection net and a small remote
The app is available on the tablet, and you can also use it on your device.
Videos and coach-designed exercises show how to enhance your performance.
Cons
 Complex and challenging to set up and remove  
  Robot depends on the application (and Bluetooth connection) to run; If the app fails to function or there is a problem in the gadget, it can't be operated.  
  Very expensive  
Butterfly Amicus Prime is a top of the line table tennis machine, and the price shows it. It comes with everything you need in terms of features and activities required for competitive, professional hard training.
#5. Paddle Palace Robot S4W Professional
The Paddle Palace Robot S4W Pro is another excellent professional table tennis robot to check out. It comes with many incredible features that you'd like to see.
It's incredibly customizable and comes with the capability of doing sidespin, topspin and underspin and no spin and serves, which can be programmed into your custom training routine!
That means you have many combinations of shots it could send to you to provide all kinds of real-life variety and mix emulate a real opponent.
You can be programmed to perform specific routines or even alternate between topspin and backspins between shots after you've practised enough, turn it into random mode.
One of our top features about this machine is its automatic ping-pong ball recovery feature, which collects these balls and then automatically feeds them back to the robot, saving time and allowing you to keep your speed.
Pros
30 pre-programmed landing sequences
Random sequence mode to complete the ultimate test
Automatic ball recovery saves lots of energy and time
Simple to set up, and rolls are removed from the table for easy storage
Long and short balls strong and weak balls shots can be combined into one sequence of training
Cons
A bit expensive
The various settings that you can set up could be confusing if you're not experienced
#6. Power Pong 2001 
Our next robot is Power Pong 2001, an encapsulated, basic version of the most loved game robot table tennis (the Power Pong 5000) but with the lowest price!
You can still create complicated drills using a wide variety of spins, locations and serves with this robot, which gives the player a highly realistic experience during training.
It can store 22 different drills, with five different spin settings but not nearly the innumerable storage available on the 5000. If you'd like to upgrade, you can decide if you require more. As with other top-quality Ping-Pong robots, this one has features that collect the balls, allow you to play for hours, and include a net that we love.
Pros
Memory room for 22 drills
It comes with pre-programmed drills
It comes with a ball catch net
3-year guarantee
Include an extra ball recycling net to ensure the continuous game.
Comes with free 100 balls.
Cons
 Can't create cluster drills  
#7. Paddle Palace H2W Touch Pro Table Tennis Robot
The Paddle Palace H2W Touch Pro has an LCD touchscreen that allows you to control and program easy. You can control topspin sidespin, underspin, or none spin, and select between 22 possible landing locations to practice various shots.
With this robot, you can train both long and short balls and shoot different spins for consecutive shots to provide further variety during the practice.
Another feature we love in this Paddle Palace H2W Touch Pro is that you can select 30 various pre-programmed sequences or store 9 of your most-loved sequences. The screen displays the spin of each throw, as in real life, you can predict your opponent. It includes a handy catch net and reloading system with 120 tennis balls from the table tennis brand Nittaku.
Pros
Two-throw wheels that offer a wide choice of spin and positioning options
It is programmable and includes 30 random sequences or randomize
The display spins before each shot, allowing you to anticipate as the natural human player
Its Comes with a net, reloading system and 120 balls for practice.
Cons
The Paddle Palace H2W Touch Pro ping pong Robot is a top choice for experienced table tennis players because of its numerous realistic options for practice in addition to its convenience and dependability. It's widely considered one of the top real-looking table tennis robots available in today's market.
#8. Newgy Robo-Pong 2055
Newgy Robo-Pong table tennis robots are trendy and well-known, particularly within America. The United States. The first model was released in 1988. They are the first robotic table tennis player!
The Newgy Robo-Pong 2055 is the most popular Newgy robot that replaces the model 2050. This is a "smart robot" using digital technology as well as a 'PC mode' that allows users to connect the robot to your computer, make drills, and save them on your system.
The ball can be adjusted in speed and frequency using the digital control box, but changing the spin requires the hand-twisting motion of the head of the robot. That means the Robo-Pong 2055 can only produce one kind of spin per time and can't create intricate exercises for training.
Newgy sells a more expensive Bluetooth Model (the Robo-Pong 3050XL); however, it comes with many negative reviews from customers. If you're in searching of the best table tennis robot you can control using your smartphone, then absolutely consider this model: the power Pong Omega instead!
Pros
64 pre-programmed drills
It comes with a net with ball recycling system.
Made and designed in the USA
Includes 48 balls and 2 paddles for free!
Cons
#9. IPONG Trainer (Cheap ping pong ball shoot)
The IPONG Trainer is our top pick for an affordable table tennis robot. Similar to the iPONG Trainer Motion or the IPONG V300, this is quick and easy for setting up, lightweight and easy to move around. It allows you to adjust the speed between 12 and 70 balls per minute and alter the speed and spin using the remote control wired to the device. It can hold over 100 balls and weighs only 2.5 pounds. The iPONG table tennis trainer comes with 80 training balls with a tilt stand.
Pros
Portable, light and user-friendly
Very Cheapest Price
Large capacity and holds 110 balls
Cons
 Not always 100% reliable with ball speed or position  
  It takes time to set up and make sure the ball is in the right place  
The IPONG V200 is one of the cheapest table tennis robots available on the market, and it's an excellent choice for adults just starting. It's not the ideal choice for kids since it needs some adjustment and tweaking to perform quite consistently. For an adult who just wants an easy robot to improve their strokes, it's an excellent choice and comes at a low cost.
#10. ZXMOTO Ping Pong Robot Automatic Ball shoot Machine
ZXMOTO is a lightweight table tennis ball machine that offers a considerable range of shots. It can produce a frequency of 40 balls into 70 balls per minute.
You can control topspin, sub spin or left- or right-spin. The head is tilted up or down at seven different angles to create different bounce angles.
The oscillation function offers 8 different options for ball placement and ball speeds. The ball can be stored with a capacity of 110. It can be easily adjusted by a wired remote.
ZXMOTO is a premium ping pong serving machine with enough options to let you play almost any stroke, including serve returns. The device weighs 7.7 pounds and is easy to operate.
Pros
Well-designed
Strong and durable
Perfect for practice at home and play
Simple to use and assemble
It comes with a catch net
A variety of practice settings
Cons
 Manual for Blurry  
  The possibility of jamming is due to dust  
It's also among the most well-known ping pong robots in China that is a dependable mechanical system that provides incredible stability and consistency. Although it cannot randomly play shots, it does have sufficient speed and variety for efficient training and drill. Users may need to search YouTube to find instructions in English (there are a lot available).
Final Thoughts: Best Ping Pong Robots
Now, this is a time to wrap up the best ping pong robots post. We would highly recommend looking into our PowerPong range of ping pong machines. They've completely changed how we play table tennis and made it easy to improve and train specific skills. We know it's more expensive than other models, such as the new Robo-Pong 2040 by Newgy and the IPONG Training Motion. Their initial model, Power Pong 2001, isn't that much more expensive, but you'll get a lot more value for your money.
Does a ping-pong machine worth the cost?
Table tennis machines are well worth the investment if you wish to work out more than you do with your friends. Table tennis robots allow you to play independently when you'd like. With these, you can develop your stroke, spin and receiving abilities. You just need to consider is the price which can range from $150 to $2000.
 Can robots play ping pong?  
This groundbreaking work in experimental robotics is a step towards understanding dynamic environments through robotics and vision. It is the first robotic system capable of playing or even beating human Ping-Pong players. Constructing machines that could play ping-pong was suggested several years ago as a complex problem that required rapid, precise sensing and actuation, as well as the ability for playing. The research described here began with tests to build a live-time video system. The ping-pong machine is equipped with sensors and processing methods and the tools required to design the robot's actions within a fraction of a second it has. It can thrive on a continuous flow of data. Constantly evaluating and improving its motion plan as data is received, it foretells the future robotic systems with many sensors and joints that have to perform the same thing regardless of the mission.
What is the process by which the Table tennis robot perform?
Table tennis robots can automatically throw a tennis ball from one side of the table tennis table towards the opposite end in a controlled way.
You can choose the kind of spins and shots you wish to practice against (topspin or backspin.