Are you want to buy the best Ping Pong table? Don't know which one to choose?
Don't worry!
We researched different tables on the market and curated a list of top brands and models. We've covered everything that you must know when purchasing an all-new table tennis table in this buying guide. Let's get started.
Best Table Tennis Tables: The Definitive Guide
Here are some links to our top tables choice if you're in a hurry. We'll go into more detail about the reasons why we like them in this post.
Before You Buy a Table Tennis Table
Bringing a ping pong table at home could be the best way to increase the number of times you practice and enhance your skill. But, it is also essential to know which one is best for you. Here are four points you need to keep in mind before hitting buying button!
#1 DO YOU HAVE SPACE FOR A PING PONG TABLE?
The proper size of a ping pong table is 9ft by 5ft (or 274cm in length 152.5cm). If you're thinking of buying a table within your home, it's worth you check your room space is enough to play a table tennis game. (you'll require at least one meter across the entire table even if you're playing to have fun).
The ideal size for recreational players is at least 5mx 3.5m.
Players who wish to engage in actual training require at least 7m by 4.5m.
Local tournaments usually offer you a court for play that measures 9m x 5m.
In national-level matches, the court size will be 12m 6m.
The ITTF (international table tennis federation) specifies the minimum court size as 14m 7m x 14m.
Do you have space for table tennis? If not, you can choose a mini ping pong table that needs significantly less space. You can choose an outdoor table tennis table.
Let's come to our next question.
#2 Which is the best table tennis table? Outdoor or indoor tables tennis?
It depends on where you plan to store the table tennis tables. The indoor ping pong table is used and stored inside the room, and the outdoor table is used outside the home.
If you plan to use the table in the garage or shed, choose an best outdoor table because indoor tables can wrap, even when stored in a dry garage.
Indoor tables are constructed with MDF, which is only stored inside the home. It would be best if you protected the table from direct sunlight.
The most important thing to remember is. Indoor tables are designed for indoor use.
#3 Who do you want to be playing with?
If you're playing just for enjoyment, you could play with anyone who happens to be in the vicinity, including your siblings, parents, your kids. If you're searching to get some serious exercise, then you'll need to decide whom you'll play with. There are many options.
Does anyone in your home have a game of ping pong that is competitive? If so, you're sorted.
Do you have any friends who play? Learning with them at your home can save you on practice fees.
Are you able to afford an instructor? Many table tennis coaches are willing to visit your home for coaching.
Would you like to buy a robot? If you do not have a partner to compete with, you can purchase a Table tennis machine.
If you want an intense training experience, ensure that you've got enough room for an indoor table as well as you've got someone playing with. After you've sorted that out, you'll need to decide how much money you need to invest.
#4 What is your max budget?
It is possible to purchase a low-cost tables tennis for less than $200. Some tables are sold up to $10,000. This is a huge difference in investment! Thankfully you don't need to invest thousands of dollars in table tennis. If you're looking for an official table, then we recommend investing a minimum of 600 dollars.
There are three things to remember when buying table tennis tables:
#1 TABLE THICKNESS
This is an essential thing that you need to keep in mind. It's not about how attractive the table and its brand name (and all other things) and concentrates on the thickness of the table. That's the value you're paying for. Table tennis tables indoors come with an MDF tabletop, typically in any of these thicknesses…
13mm (1/2 inch) – Bad bounce. The table with the lowest price. Don't buy this type of table.
16mm (5/8 inch) A good bounce, then 13mm. You should only buy this if you're on the lowest budget.
19mm (3/4 inch) – Good bounce. The TTU suggested minimum thickness.
22mm (7/8 inch) – Great bounce. Perfect for clubs. Much cheaper than 25mm.
25mm (1 inch) – Perfectbounce. Competition-standard table.
#2: SIZE OF STORAGE
If you're planning to store your table tennis table when it's not being used, you should consider the amount of space it'll consume. If you've seen an old-fashioned table tennis table folded and observed that when folding the table in two, you'll be left with a massive gap between them. This means that table will take up around 60cm of space off the wall even when the table is moved.
Table tennis tables of the present (like joola inside table and Joola Tour) are made to fold up so that the tops of the two halves end up meeting. This will take up less space, though the undercarriage and wheels could still be about 50cm. If you're struggling to find space, you could buy a table, such as this one: the Butterfly Compact. Its legs fold up to ensure that it takes just 10cm when stacked against the wall.
Top Indoor Ping Pong Table Reviews
After we've discussed a few points, you need to keep in mind when purchasing the best ping pong tables. We will review our top best indoor tables in each of the categories. If you're searching for outdoor Ping Pong Table reviews, continue reading.
#1. The JOOLA Tour 2500
The JOOLA Tour Specifications
Dimensions 9 5 feet
The assembly time- is 10 minutes (table Comes with 95% of the components fully prepared)
Surface 1″ (25mm) moderate density fiberboard)
Price – $$ (Check current price)
Our rating – is 9.9/10 (Our JOOLA Tour review)
This JOOLA Tour 2500 table tennis table is our first option in the top-rated ping pong tables. If you check our top-rated tables, you'll notice that JOOLA are experts when it comes to building an indoor ping-pong table (three of our top-rated models are all made by JOOLA). Its Tour 2500 is our favorite choice. If you're looking to purchase a budget-friendly tennis table but a top-quality table, then you will be happy with this.
Like you'd expect from JOOLA, It comes with all the features you'd want and need. The first one is a superb tabletop surface.
The Tour series by JOOLA is available in three models The JOOLA Tour 1500 (5/8), the JOOLA Tour 1500 (5/8), the JOOLA Tour 1800 (3/4" JOOLA Tour 1500 (5/8 "), the JOOLA Tour 1800 (3/4 3/4), and the tournament-level tables JOOLA Tour 2500 (1 "). Keep in mind that the more thick the tabletop's surface is, the more bounce you're sure to get. For the value of your investment, we prefer the 25mm model for leisure play at the table tennis club at home or in the office. It's great and costs a little more than 15mm and the 18mm models.
It folds down for a single playback mode to practice alone and stores when not used. Moving it around comes with eight casters wheels (four in each half), which lock into the position to ensure that it's secure and won't move. If you have uneven flooring, it is possible to use the leg levelers for the playing experience.
Overall it's a great table. JOOLA Tour is a solid USATT certified table with an affordable price. It is easy to recommend among our best picks in indoor table games. It's certainly one of the top JOOLA Ping Pong tables available for the price.
#2. The JOOLA Inside 25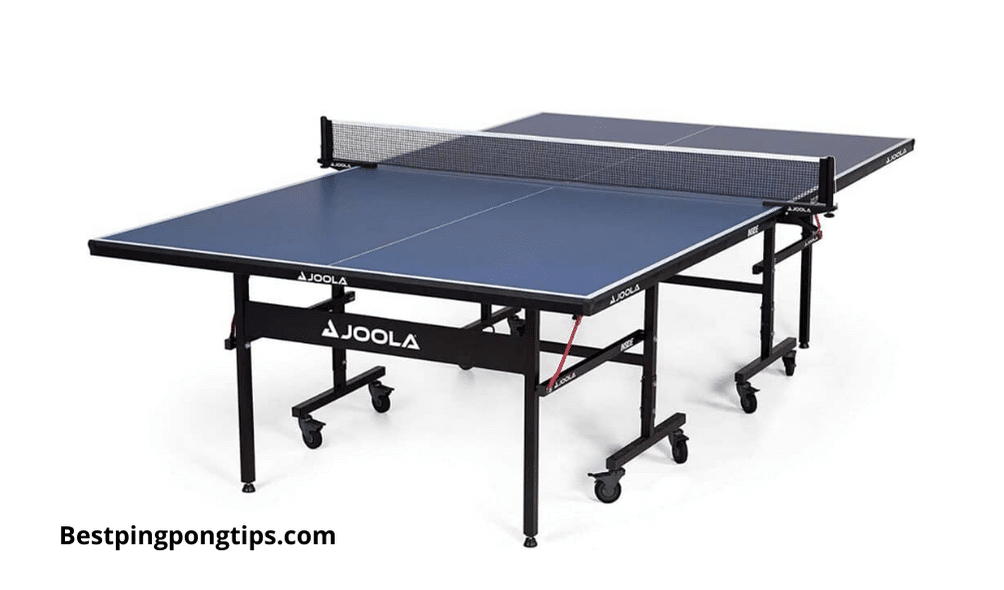 JOOLA INSIDE SPECIFICATIONS
Dimensions 9 5 feet
Simple assembly in less than 10 minutes
Surface – 1" (25mm)
Price $ ( Check the latest price)
Our score Our rating 9.9/10 ( Full review of the JOOLA Inside tables)
At number two is a JOOLA Inside 25 table tennis table. It's a top contender as ever among the top adored table tennis tables. This is an excellent option for someone looking to get their first table or a family searching for the ultimate indoor ping pong table. You can fold up easily and put it away when not being used.
It's available in three table sizes, but our preferred size is 25mm (the JOOLA Inside 25), supported by 1.5 inches thick steel legs to make it solid and secure. You can split it into two pieces, making it simple to move around. Additionally, you can fold one side of the table and play with it in a personal playback mode and then practice alone or store it away.
We strongly recommend JOOLA Inside 25 for anyone looking for an affordable, high-quality table for their game room that can last for years.
#3. The STIGA Advantage Pro
SPECIFICATIONS
Dimensions – 9 x 5 ft
The time to assemble 10 minutes fast assembly
Surface – 3/4" (19mm)
Price – $$
Our rating – is 9.8/10 (Our STIGA Advantage Review )
Our third choice would be the STIGA Advantage Pro, an additional table famous for recreational players. It is an excellent choice for recreational players. It comes with a standard size of 9×5 feet and is extremely simple (some players have set it up in just 10-minutes).
The playing surface is available in various table thicknesses. We recommend the STIGA Advantage Pro version that measures 3/4 inches (19mm); however, you can choose the standard STIGA Advantage that is a little less expensive but comes with a 5/8 inch (16mm) thick tabletop and the Advantage Lite.
It's constructed from a medium density fiberboard which is finished off with several coats layers of color to guarantee the smoothest surface possible for an even bounce all over.
As a high-quality indoor ping pong table, you can easily fold up STIGA Advantage to store it away for storage or put it in single-player playback mode for some practice alone. When folded, it secures into place by using a spring-loaded security latch that ensures that it doesn't pop open automatically.
It comes with four-inch casters that are black and premium for easy transport; The wheels also come with a locks system that ensures that your table remains safe and secure. Another thing we like STIGA Advantage table is equipped with a top-tournament quality net set of 72 inches tournament-grade that is clamped on top and is simple to install. It is possible to adjust the height and tension, too.
If you're searching for affordable but durable high-end ping pong tables in your office or home, check STIGA Advantage Pro.
#4. The JOOLA Motion
SPECIFICATIONS
Dimensions 9 5 feet
The assembly time- is 10 minutes (Comes with 95% of the components fully prepared)
Surface3/8″ (18mm) moderate density fiberboard)
Price USD ( Check current price)
Our score of 9.5/10 ( Our JOOLA Motion review)
Another excellent best table tennis table is the JOOLA Motion (also known as the JOOLA Rally TL). It's extremely popular with novice and intermediate players who want an affordable and durable option that won't break your pocket.
The JOOLA Motion is, as with most tablets, is available in three different thicknesses of playing surfaces 5/8 inches is the most common and is more than enough for the majority of players. If you can invest a little more, you can go for the model of 3/4″ and the tournament-grade table, which is 1 inch thick (the minimum required in professional-grade tournaments) to give you a better bounce.
The JOOLA Motion comes with the table's top constructed of a medium-density MDF fiberboard. It also has several layers of paint that provide a smooth ball bounce during the game. It also comes with four locking wheels and leg levelers to ensure that your playing area as smooth as is possible.
We also like the high-end design and appearance that comes with the JOOLA Motion, and the feature of having a balls holder in every corner makes it useful (once you've played at tables that have corner ball holders, you'll be unable to switch to one with no!). The Motion also has magnetic abacus scorers that assist you in keeping an eye on who is winning. Find the most recent prices for this Motion 18 below.
#5. The Butterfly Centrefold 25
Available in two colors, blue and green, The Butterfly Centrefold 25 is a heavy duty professional-grade ping pong table that has been ITTF approved (International Table Tennis Association) for both club and tournament play. The surface is 1″ thick and is made out of wood. The table is built with two-inch round steel legs. The net that comes with it is the highest quality Butterfly Europa net set.
The Centrefold is simple to install (requires no assembly). It folds down and then rolls away for easy transport and storage. In addition, the wheels can be locked. Additionally, the feet can adjust on four legs to ensure that the table is stable and suitable for competition play.
The only issue with this Butterfly Centrefold 25 is the price, but we can proudly say it's the Best ping pong tables with premium quality and more than the STIGA Advantage. This Butterfly table has a five-year warranty, showing this brand loyalty and quality.
The Top 5 Outdoor Ping Pong Tables
#1. The Cornilleau 300X Outdoor pingpong table
SPECIFICATIONS
Dimensions 9 five feet (regulation size)
Setup 90 – 120 minutes (Not easy to set up by yourself)
Surface 5mm Laminate surface that has reduced glare
Cost Price $$$$ ( Check the price at the moment)
The next outdoor professional table tennis is Cornilleau 300X which is made in France. It comes with 5mm of the anti-glare top with a superb ball bounce across. The frame folds with a 50mm steel alloy frame that gives the table solid and stable support and is entirely weatherproof, not to rust even when exposed to elements. We like the sturdy 200mm (8 inches) in diameter casters that are perfect for moving it around and the easy portability with brakes to keep it secure when it's tucked away safely.
We impressed by the ball storage dispensers are located under the table apron. They ensure that getting the ball you want to replace is easy and convenient. Additionally, it offers the space to store eight balls, and four paddles rolled around to ensure you don't forget your gear. Swivel feet make the game playable wherever it adjusts to the playing surface. The adjustable net allows you to choose the amount of tension and height you require and is easy to remove after use.
Overall, it's a high standard, sturdy, robust, and well-designed best outdoor ping pong table. Additionally, a 10-year warranty, which is an excellent indication of its durability, is why it's our top table for anyone searching for a table to put in their outdoor space.
#2. The STIGA XTR Pro Outdoor pin pong table
SPECIFICATIONS
Dimensions – 9 x 5 ft
Assembly 15 minutes (95 percent pre-assembled)
Surface 6mm Aluminum composite surface
Price $ ( See the latest price)
Our score is 9.6/10 ( See our complete review here)
Our next choice is STIGA XTR, an excellent table tennis table built to stand up to whatever Mother Nature can throw at it. The top of the table is coated using an exterior grade of powder coating. The steel legs are constructed with galvanized steel frames (powder coated with Zinc), which are water-proof and will not rust and protect from sunlight damage. This makes it ideal for play all year round in any climate. It's made to resist the effects of moisture, which may cause the finest tables for indoor table tennis to crack and change shape.
The table's top is supported by a 1.5-millimeter tubular steel edge, which ensures it bounces across the entire table. It's effortless to fold up when not in use, thanks to the feature of self-opening that lets the legs of steel automatically move as you open or close it. Like many tables, this one has leg levelers and sturdy locking wheels of 3 inches to ensure safe and easy transportation. If you're budget-conscious, you can consider this model: STIGA XTR Pro, which comes with larger wheels as well as a more robust frame. Each comes with a 72 weather-proof, tournament-grade net and a post set built to last and maintain its tension. It's very similar to JOOLA Nova DX (which we'll be looking at in the next).
#3. The JOOLA Nova DX
Specifications
Dimensions 9 5 feet
Assembly 15 minutes (comes 90 percent pre-assembled)
Surface- Aluminum plastic composite with a thickness of 6 mm
Price is USD ( Check the latest price)
Our rating – is 9.5/10 (Our Nova Review)
JOOLA Nova DX is an outdoor-indoor Ping-Pong table that is built to last. It comes with a 6mm thick aluminum and composite plastic surface that's warp-resistant and won't break to ensure that it will last for many years of outdoor play. It's built with solid frames made of steel (galvanized) and sitting on the 30mm x 30 undercarriage that is rust-proof and safe.
JOOLA Nova DX can split into two sections, making moving and storing it simple. It is possible to do this by yourself. This also means that you can place it up in playback mode to try it out on your own. It is also equipped with a weatherproof net set that's easy to put together and doesn't seem difficult like other nets we've used. When folded, it's effortless to move about as each half includes four caster wheels secure to your safety when you transport it.
Similar to other table models with leg levelers, this one has leg levelers to ensure that the table is as level as it can be. This is a beneficial feature, particularly on the table tennis table outdoors. Overall, we would say that JOOLA Nova DX or its larger version, the JOOLA Nova Pro, are excellent tables for outdoor use that we would highly recommend.
#4. The Champ from Kettler 5.0
Specifications
Dimensions – 108" x 60" x 30"
Assembly 2 hours (Not easy to put together alone)
Surface 7/8″ (22mm) Non-glare, waterproof aluminum top
Price $$$$ ( Check the current prices here)
Our score 9.2/10
The Kettler Champ 5.0 is another outdoor best ping pong tables with a 7/8 inch (22mm) non-glare, waterproof aluminum top that offers a smooth ball bounce. Although it's not 1-inch thickness is required for a professional table for tournaments, this is enough on an indoor and outdoor table. The table was created outdoors in mind and is among the most durable tables we've used. It has Galvanized Steel legs that resist rust. The table apron measures 2.25 inches thick and is coated with resin, preventing moisture from leaking into the table and causing the table to warp. This is an essential feature of the outdoor tables.
The biggest drawback of this Champ 5 is how long it takes to put together. Users have complained that it takes well over two hours. Furthermore, it's challenging to put it together yourself since it's heavy. We like the fact that it is equipped with balls and paddles, a net set, and even an extra table cover!
#5. The STIGA Vapor
Features
Dimensions – 9 x 5 ft
Setup 10 minutes (Super simple to install)
The top thickness is 6mm high top of aluminum composite
Price is USD ( Check the latest price)
Our score is 9.3/10 ( Read our complete review here)
STIGA Vapor is an excellent option for finding the Best ping pong table. It has a 6mm high aluminum composite table that's waterproof. The frame is made of galvanized steel to keep the edge from rusty.
The only drawback is that it has only three inches of wheel casters that are a bit smaller than we prefer to see on a table for outdoor use; however, overall, it's a good alternative and is worth buying.
Best Mini Ping Pong Tables
If you've ever seen an indoor or outdoor table tennis table, you'll realize they're pretty big and require more space around the table for the best game. There are many excellent options for mini sized ping pong tables that fit into the space of an apartment. They can fold away to make it easy to store them when not being used. Another thing to remember is that mini ping pong tables aren't able to be placed in their playback positions. Let's now take a glance at the mini-reviews we have written for.
#1. Butterfly Junior Compact 3/4 Size
Junior Compact Features
Table Dimensions – 81″ L x 45″ W x 30" H
Setup Pre-assembled – Just unfold, turn the net in and start playing
The thickness of the tabletop is 12mm
Price $ ( Check the latest price)
The top option for the best ping pong table for small spaces is the Butterfly Junior table. It's about the same standard table size, so it's ideal when you don't have enough space for the full-size, competition-sized table.
It's already assembled. You need to fold it and then place the net. When you're done playing, it simply folds away to make it easy to transport and is simple to store. Each piece weighs only 35 pounds and comes with wheels at the bottom, which means you will not face any problems.
The table's surface is 12mm thick, much smaller than we usually recommend. However, when we considered the price and a mini table, we were very pleasantly shocked. But if you're searching for a table that will deliver a good bounce, we would not recommend this table tennis table.
If you do not have enough space to set up a table of a larger size but still want to play and store tables easily, The Butterfly Junior should be the top choice for buyers.
#2. The STIGA Space Saver Mini Table
STIGA Space Features
Table Dimensions – 5 ft 11" x 3 ft 4"
Setup It's as easy as unfolding and put the net on and start playing
Top Thickness 5/8″ (surprisingly large for such a tiny table)
Price USD ( Check the latest price)
Our score is 9.5/10 ( Read our complete analysis here)
STIGA Space Saver from the STIGA brand is one of our top Mini table tennis tables. If you live in an apartment and don't have a good amount of space, it's for you. It's got a very affordable 5/8-inch thick tabletop suitable for recreational players and youngsters.
One of the best things we found was how easy it folds for ultra-compact storage when it's not in use. It's among the most portable tennis tables we've ever seen. This is a significant benefit for people living in apartments who do not want the table to take up the entire room space. It's also very affordable and comes at half a large table price.
#3. The JOOLA Midsize
Features
Dimensions – 6ft x 3 ft
Set-up It comes 100% assembly, just unfold it and enjoy
Weight – 62 pounds (Very lightweight)
Cost- ( Check the current price)
Our rating – is 9.0/10 (JOOLA Midsize Review)
If you want a table tennis table to fit in smaller spaces, JOOLA The Midsize Classic can be another option. It's slightly smaller than its mate, the STIGA Space Saver, about 3/4 smaller than the professional-grade regulation table, but it is still a great table. It's incredibly light and folds up for easy transportability. It is also extremely compact, ideal for urban dwellers who do not have many spaces in their homes or office.
There's also an even more athletic design, the JOOLA Small Sport. If you're looking for something cooler, we prefer the classic look—the traditional.
What are the qualities of a high-quality Ping-pong table?
"It depends on what it's going to be used for, " says Zeller. Are you using it for training or recreation, or is it going to be used outdoors or indoors? "Look for tables designed to play the way that you'll engage. For top-quality brands are concerned, I'd recommend Butterfly, JOOLA, and Stiga."
What tables for ping pong professional players use?
Heap says that tables for professional users need to have a high-quality tabletop made of a durable material and a solid frame to help it. "A good material for a tabletop for the professional table would be pressed chip wood which has a good bounce to it," Heap says.
 
Schroeder states that the style of ping-pong tables pros choose depends on the event's sponsors. "The World Championship, which just took place in Houston, Texas, used ping pong tables from a company called Double Happiness, which are made in China," Schroeder declares. "All the professional tournaments used to use tables made in Germany, but they got too expensive, so now they are using different brands."
What kind of ping pong table is the best for beginners?
According to Schroeder, the most effective tables for beginners are available at Sears, Costco, or other stores selling sporting goods less expensive. Heap suggests Kettler for top-quality tables that are also affordable.
What is the best brand of tennis table?
The top 10 table tennis table Brands are:
1. Stiga.
2. Butterfly.
3. Cornilleau.
4. Yasaka.
5. Joola.
6. Nittaku.
7. Victas.
8. Tibhar
What is the best ping pong tables?
Best Overall: Joola TOUR 2500 Table Tennis Table is our top choice. When selecting the best ping pong tables, we recommend  Joola TOUR 2500, its excellent product that combines the highest quality, top quality, and is long-lasting.
How thick should a ping-pong table be?
The playing surface must be at least 19mm or 3/4 inches thick. Any surface with less thickness can warp easily and may not even bounce to the ping pong balls. Most table tennis surfaces are made of particleboard.
 
Is a 15mm ping pong table good?       
Table tennis for regulation tables is sized between 12mm and 30mm. As a rule of thumb, the more thick the table, the more durable the table. The perfect ping pong tables for rec centers with high traffic and players with competitive skills are table tennis tables that are larger than 25mm tables. For beginners and buyers of game rooms, generally do fine with ping pong tables that fall between 13mm and 15mm range.
Is there such a thing as an outdoor ping pong table?  
Tables for outdoor ping-pong have sturdy legs constructed of aluminum, steel, and zinc alloy as they are sturdy and weather resistant. Most of the time, legs with thicker legs are more sturdy and durable than thinner ones.
How much does a quality ping pong table cost?  
Certain manufacturers design their tables with a budget in mind, while others are determined to make top-quality and top-of-the-line tables. In the end, the cost of a ping-pong table is $150 to $400 for indoor tables and $400 to $700 for outdoor, $200 – 300 dollars for the top convert, and $1000+ for premium tables of the highest quality.
What is the professional size of a ping pong table?  
The playing surface (also called the upper part) should be rectangular and of those dimensions: The length is 2.74 metres or nine feet. Wide: 1.525 metres or five feet. The height is 76cm or 2.5 inches above the floor.