Table tennis, also known as ping-pong or whiff-whaff, is a globally accepted household sport popular amongst different age groups. Although you enjoy ping pong game with your friends and family, because of it's marvelous athletic display this sport has also made into the Olympics. The primary elements to play this sport are a ping pong ball and a paddle. A ping pong match prominently depends on the paddle; hence, you need to decide upon the kind of blade you want your paddle to have. So let's get to know how to make ping pong paddle.
To own customized ping pong paddles, you should first get to know what the ping pong paddle is made of. The central part of the paddle blade is usually made of wood.
To make a competition standard custom ping pong racket, the ITTF regulation authorizes the paddle must content 85% of wood and 7.5% of fibrous material.
What type of wood is used for ping pong paddles?
The first step to know how to make ping pong paddle is about selecting the wood. The custom ping pong paddles are usually made from laminated wood covered with rubber on one or both sides as per the player's grip. The plywood is accessible in various materials such as fir, pine, and spruce, softwood. For hardwood material, you can use mahogany, walnut, koto, bamboo, Kiri, maple, birch, padauk, abachi, etc.
Try out different woods and see their difference in weight to choose the right kind of plywood that you would feel comfortable using.
Is there a difference between the red and black sides of a ping pong paddle?
A ping pong paddle is usually marked with one red and one black side. This helps the players distinguish between the different types of rubber used by their opponents.
Such regulation is set to specify that one side of the paddle must be red and the other must be black. The player is given the right to see what side of the paddle their opponent hits the ball.
Step By Step Guide: How To Make Ping Pong Paddle
Step-1: The blade
You must prepare a printable ping pong paddle template before cutting out the woods. To make the custom ping pong paddles draw out the blade's outline on the wooden slab with a pencil using the templates. Now you can use a handheld electric saw or an electric jigsaw to cut out the wooden slab.
The next step about how to make ping pong paddle; all you have to do is cutting, sanding, and gluing the wood templates. You need to connect the entire ping pong paddle template to the wood and then cut out the woods accordingly. Now it's time to glue together the two handle pieces with wood glue or epoxy, then let it dry out; once the paddle structure has dried properly, again sand the wood thoroughly.
Step-2: The rubber
Use a small sponge to spread a thin layer of glue on the rubber, or you can apply two layers of glue if the rubber is too absorbent. Wait for the first layer to dry out before applying the second layer. The custom ping pong paddle rubber provides the density and thickness to the sponge layer of rubber that impacts the speed of the ball. Although the blade is made of wood, the blade's side where the ball makes contact should be evenly covered in rubber. Thus, the ping pong paddle rubber can be of ordinary pimpled rubber and sandwich rubber.
Step-3: Assemble the blade and rubber
The finishing step about how to make ping pong paddle is all about shaping the blade. Cut around the blade so that the tuber could match the shape of the blade. Apply each rubber one at a time and let the paddle sit before applying another. In order to make custom ping pong paddle, the last step is to apply a finish to the paddle. You can either apply paint or can use a clear coating on the surface. If you are using lacquer spray, apply multiple layers on the wooden surface to get the best results.
Step-4: The handle
The handle of a custom ping pong paddle table tennis paddle is generally attached to the blade. To know how to make ping pong paddle, you should also know the different types of handles. The handles can be straight, anatomic, flared, or penhold.
You should prepare two separate wooden pieces for making the handle. Each piece should have one flat side to them to make the sticking process easier.
Make two holes in the handle at the two ends for better adhesion and glue them together with the blade to get the right ping pong paddle design with proper ping pong paddle dimensions. You can also customize ping pong paddles from one piece of wood and design the shape of the handle to spare a considerable amount of time and effort.
My top suggested products for assemble your first custom ping pong table tennis paddle
Best ping pong blade under $150 
The butterfly Viscaria paddle would be the best ping pong blade under $150. The paddle is made of carbon-poly fiber and plywood. This combination is made for providing extreme power to your swings so you could give shots with speed.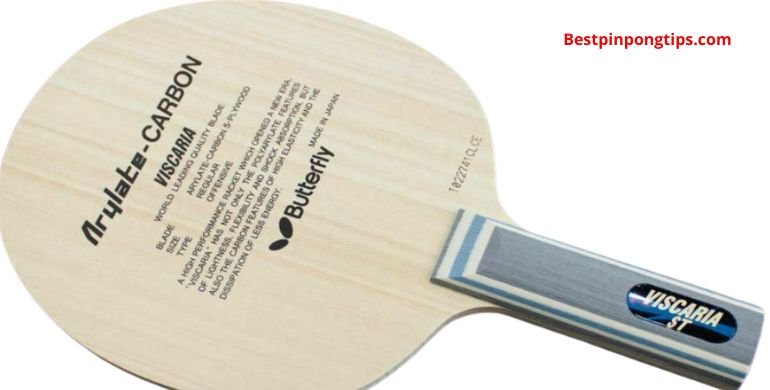 Pros
Appropriate for a straightforward counter-attack.
Extreme durability and power
Cons
Any error can give you an injury
Difficult to loop and impart spin to the ball
2. Best ping pong blade under $100
The best ping pong blade under $100 will be Joola Rossi Emotion. This blade can provide you with a penhold handle, which is best suited for players with a good penhold grip. Its blade is made with five layers of plywood and two layers of veneer.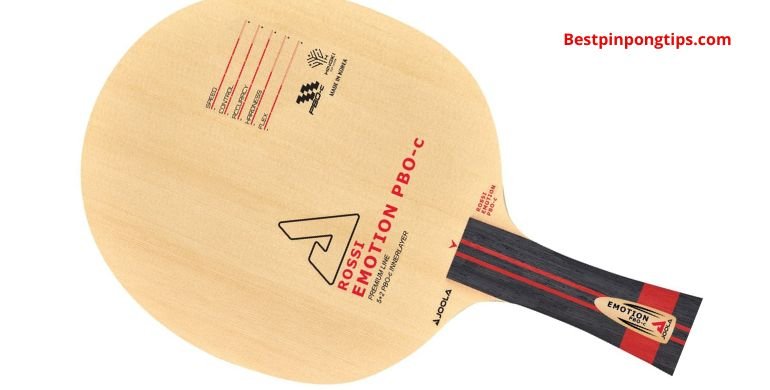 Pros
Suited for penhold grip
Requires larger striking surface
More suitable for new players
Cons
Does not suit defensive players
Less availability
3. Best Ping Pong Blade Under $50
The best ping pong blade under $50 would be Petr Korbel. Its blade does not have any augmentation to its materials and is made of pure plywood.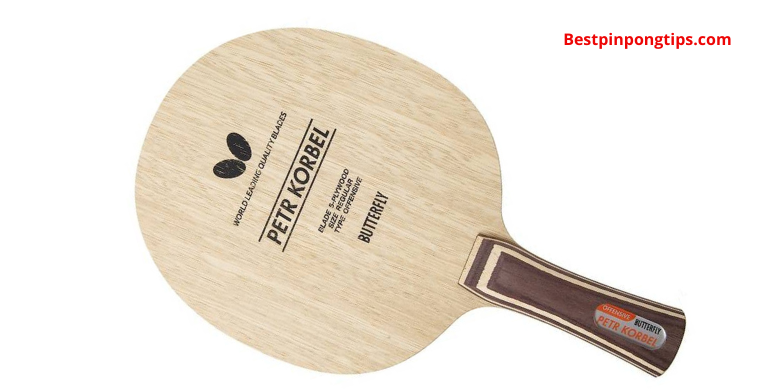 Pros
Suitable for penhold grip
It needs a larger striking paddle surface
Suitable for new players
Cons
Slow shots
Not suitable for defensive players
Has limited supply
Best table tennis rubber that I am using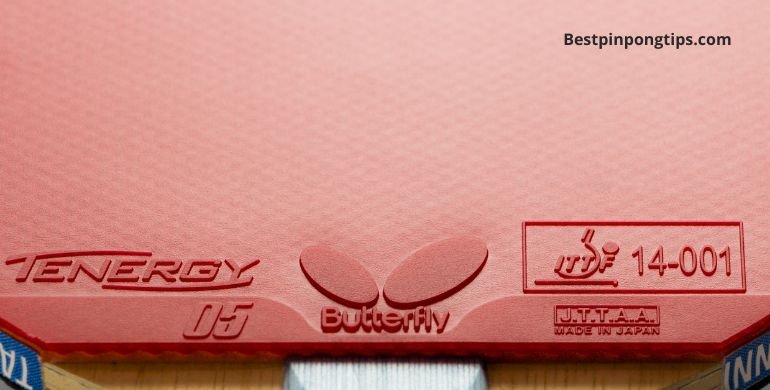 I use tenergy 05 rubber, which is more appropriate for weak and stiff blades. The rubber is made with proprietary sponge technology to compress and keep the ball on the paddle longer and provides perfect spin. 
Pros
Unpredictable shot
Reimburse for stiff blades
Cons
Not suitable for beginners
Extreme speed
Best affordable ping pong rubber 
The best affordable ping pong rubber would be Mark V Yasaka. This rubber uses speed glue technology and has given an all-around great performance.
Pros
Provides decent performance regardless of any areas
Reliable construction
Cons
Outdated speed glue technology
The ball sticks to the paddle too often
Final Thought
Hopefully, now you got an overall idea for making your own ping pong paddle. Create your own paddles as per your preferences. If you can't decide on which kind of rubber and blade will fit each other, go for the standard designs of rubber and blade to carry out an uncomplicated process. Instead of making a custom paddle appropriate for your current skill level, try making one paddle to develop your skills.
Also Check:
How To Clean Ping Pong Paddle: The Definitive Guide
What are ping pong paddles made out of?
The ping pong paddles are generally made from laminated wood covered with rubber either on one side or both sides as per the players' preference and their grip.
Why are ping pong paddles so expensive?
Usually, well-known brands use high-end technology to manufacture upgraded ping pong paddles. Such equipment is very effective; hence, they are so expensive.
How to make a ping pong paddle out of cardboard? 
Get cardboard and draw out a paddle template on it. Now cut out two bats from the cardboard. Bring two popsicle sticks and glue them to the handle part to strengthen them on one cardboard bat. You can now glue the second cardboard bat on top of it and let it dry. You can wrap the paddle to cover the rough texture as per your preference. 
How to make a table tennis bat with cardboard?
Make two bat templates from the cardboard. Glue two wide popsicle sticks to the handle part of one bat template. Then glue the other cardboard bat template on top of it and leave it to dry out naturally.
What is the size of a table tennis racket?
A table tennis racket's blade must have an average length of 17-18 cm and a width of 15-16 cm. the average length of the overall racket must be between 240 – 260 mm.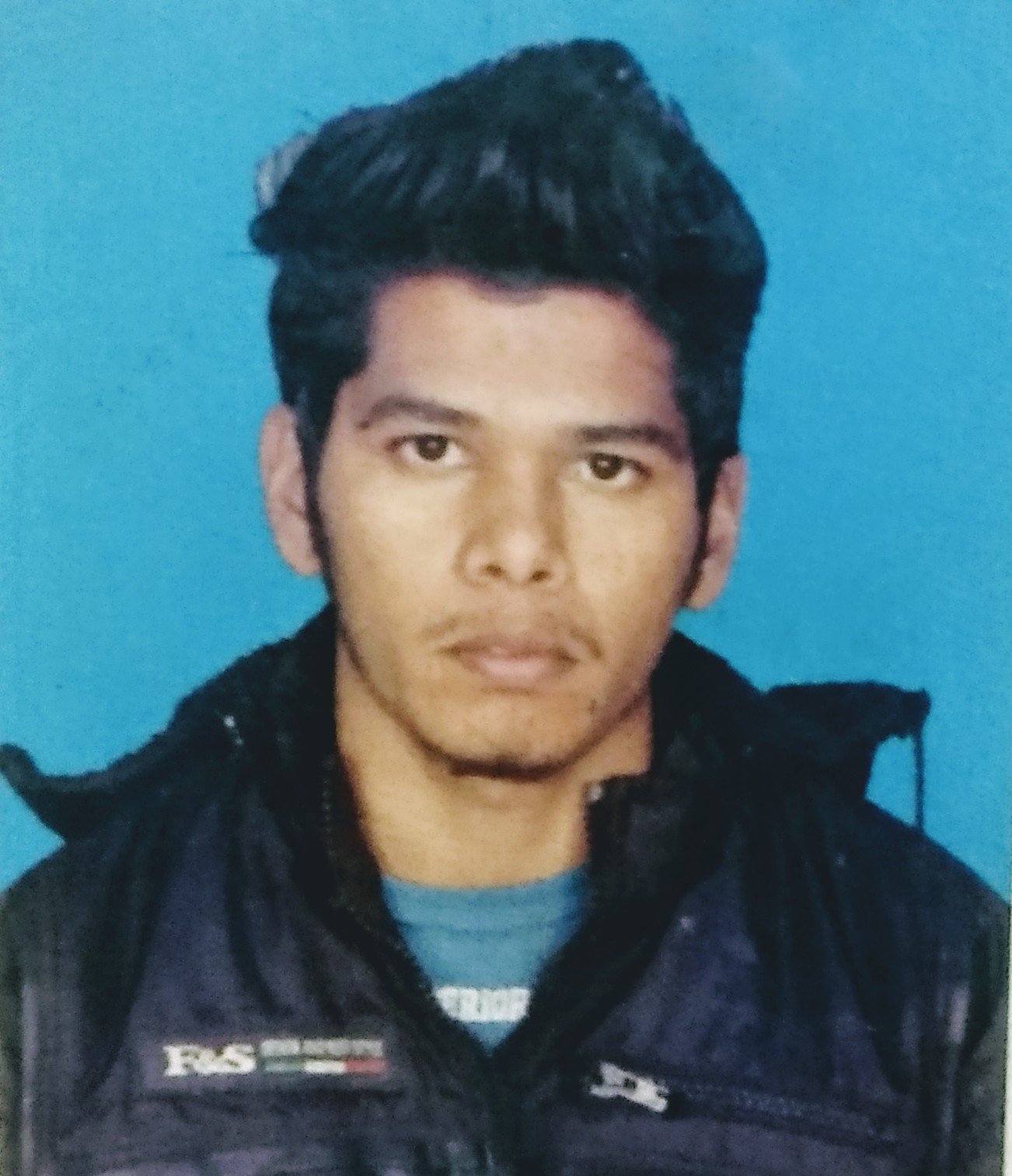 I am Sachin, a content writer, and Table Tennis enthusiast. On the Bestpingpongtips site, I share ping pong tips, give my honest Table tennis equipment review, and help people choose a quality product.