I know table tennis and pool are the most famous table games that any sports lover wants to play. But it's not possible to set up two gaming tables in your room. Thankfully Best Ping Pong Table Top makes this possible means you can enjoy both games at one table.
Isn't it great?
You just need to pick a table tennis conversion top for the pool table and start play. I have reviewed all types of conversion tables and curated a list based on their materials, size, price, and customer star ratings.
Editor Best Ping Pong Tabletops Choice
If you don't have time to read the whole article, you can directly pick from our top choices.
What are the Best Ping Pong Table Tops in 2022?
#1. JOOLA Regulation Top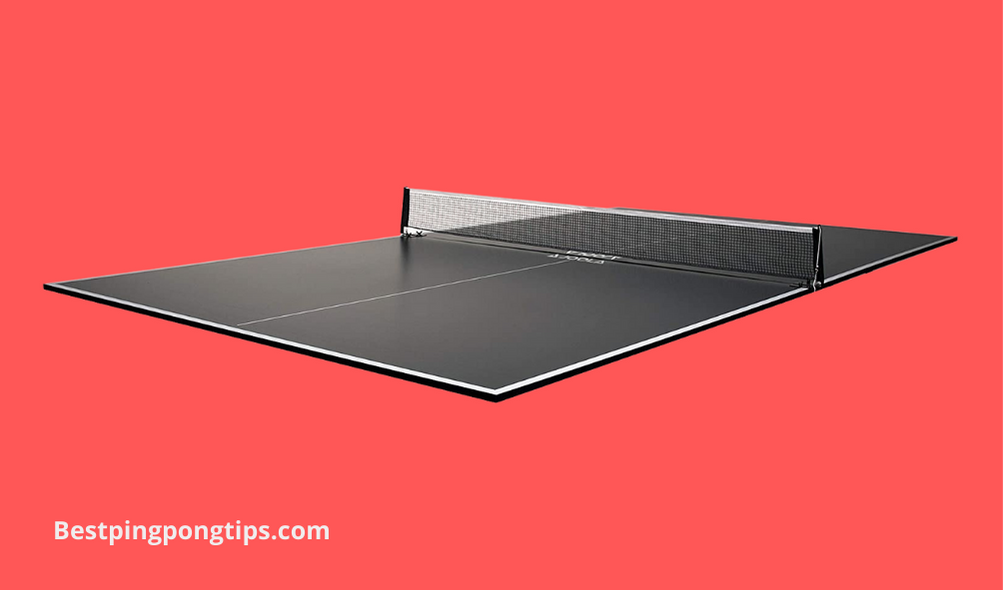 Specification
Conversion top Dimensions: 9 x 5 foot
Assemble: Take only 5 minutes
Surface Thickness: Comes with a 15mm thick MDF surface
Total Weight: 115lbs
Price: (Check Current Price)
Our Ratings: 9.5/10
Joola regulation is our first choice. Joola company has been the most trusted Olympic table tennis brand for the last 60+ years.
The JOOLA table is regulated at 9 feet in length by 5 feet in width. This standard ping pong table is rated the best for playing and competing.
Its table surface is made from MDF wood and has a thickness of 5/8 (15mm). This tennis table topper is made of high-quality materials and has a thick thickness that ensures durability and long-term usage.
This ping pong table topper can be placed on the pool table or game points tables, provided their height is at least 2.5 feet.
Its main problem is its weight. The device weighs 115 lbs, so it will take some effort to transport. It is easy to assemble, as it can be divided into two equal parts measuring 4.5 x 5.8 feet. Then, you will only take five minutes to put them together.
Are you worried that the JOOLA table tennis table top might ruin your billiards table? Don't worry! To avoid scratching the surface, this product has ten pads.
JOOLA, a well-respected brand with a strong reputation in the US sports equipment market, is last but not least. This brand's product quality is unrivaled.
If we don't mind the weight cons, this pool table ping pong top is constructed with high-quality materials and is available on low-priced.
#2. Butterfly Pool Table Conversion Top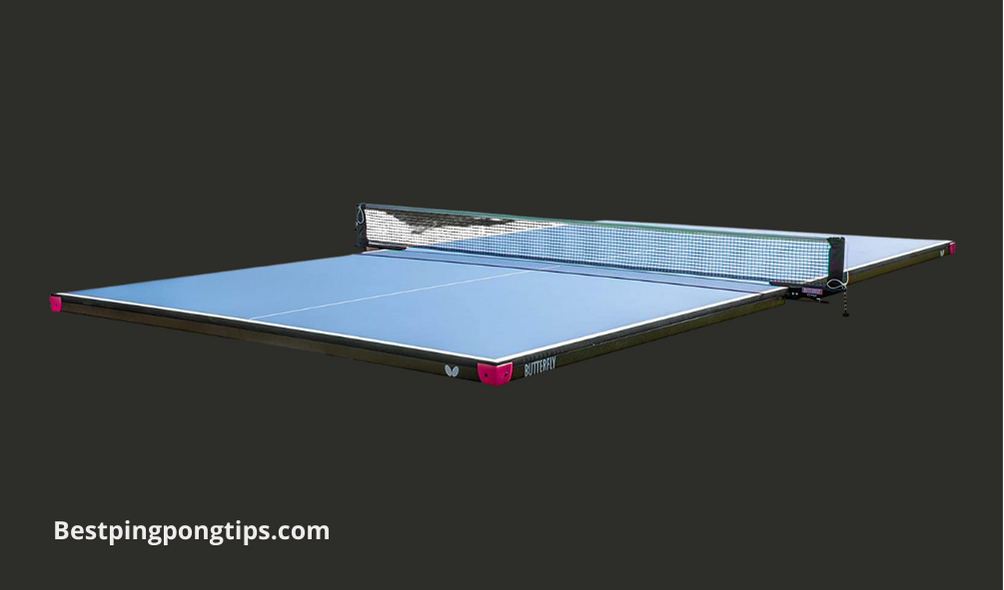 Specifications:
Dimensions 9 x 5 feet
Assembly time under 2 minutes (just clip them together).
Table surface thickness – 19mm (3/4'')
Price- $$$ ( View the most recent price on Amazon).
Our rating: 9.6/10
Butterfly's pool table ping-pong top is our first choice. You'll love the quality of their tables and the fact that they are considered one of the best manufacturers. The tabletop is 19mm thick (3/4) and provides a consistent bounce across the entire playing surface. A metal apron is attached to give adequate tabletop support and protect it from knocks. Magenta corner protectors also protect each corner. You can also choose from blue or green, depending on your preference. The Butterfly conversion top is excellent for large pool tables because the apron can be removed. It can use on tables up to 8 feet long.
It can be split into two halves to make it easier to assemble. However, it is pretty significant, so you will need two people to do it. Attach the posts and net to the halves, and you will be ready to go in no time. The foam backing on the tabletop protects it from scratches and damage.
I am a big fan of Butterfly ping pong conversion top because they won't disappoint you. Although it is more expensive, the thicker tabletop and foam backing offers much greater value. You also get a 3-year warranty for any defects.
#3. Martin Kilpatrick Pool Table Conversion top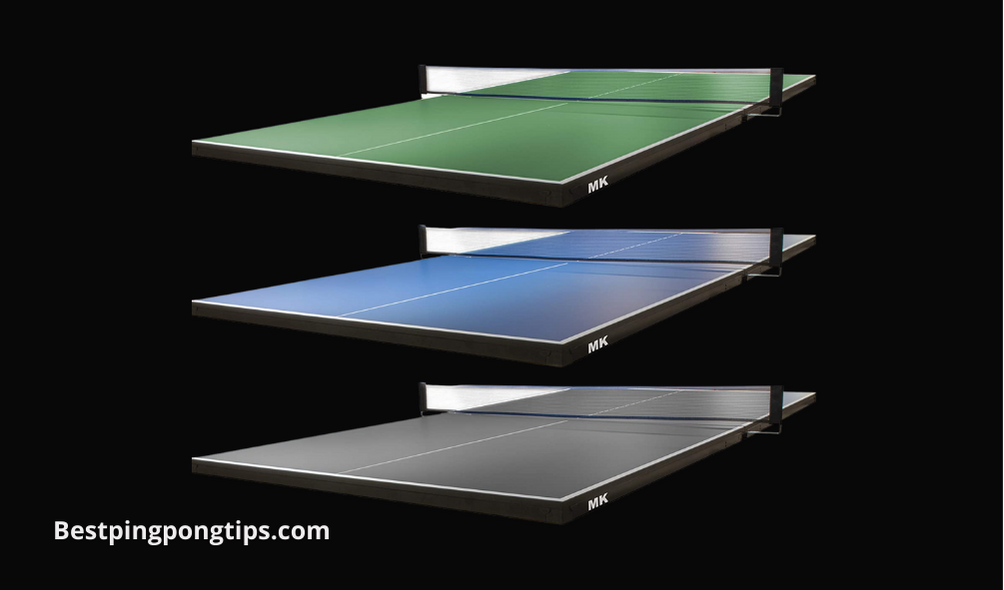 Martin Kilpatrick might be a brand that you don't know about when it comes to table tennis products, but we recommend you use your judgment. This is an exception in every way. It is manufactured in the same factory that Butterfly tables and comes with high quality. The top is held by 1 1/2 metal rails that connect to a bracket with a dovetail design. To protect your table's surface, adhesive pads are included with the table. Although we would prefer more foam coverage, it offers good protection. If you are concerned about scratches, you can always purchase additional foam backing.
The locking halves are a great feature of this model. This stops the top from sliding during play, a common problem with lower-quality products. This tabletop is stunning, but the net is its main problem. Although it's not terrible, it is its weakest point. It connects to the brackets in a dove-tail design, making it difficult to adjust and harder to replace if it gets damaged. This net is compatible with a wider variety of pool tables. This pingpong tabletop is compatible with pool tables up to 5 feet in width.
The table also includes bats and balls. Most of you will already own yours. If you don't have one, you can still play right away. Despite all the great features, you might still not be convinced. We understand that you might prefer to stick with well-respected table tennis manufacturers. Martin Kilpatrick offers a 3-year warranty that matches Butterfly. We find this to be quite remarkable.
There are three colors available for the table: grey, green, and blue. You have many options when it comes to choosing what color you would like to use.
#4. GamePoint Table Tennis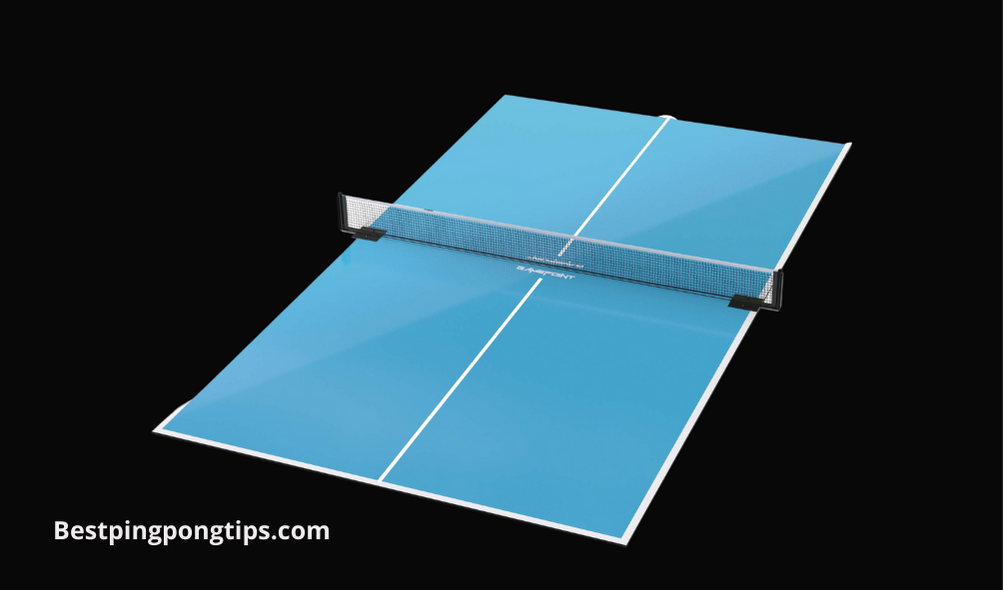 Specifications:
Dimensions 9 5 feet
The assembly time: less than 5 minutes
The thickness of the surface is 19mm (5/8)
weight – 105.8 pounds
Price: $
Our score:9.2/10
GamePoint manufactures another great ping pong topper for pool tables. Like the Joola model, it comes with a 15mm playing surface and an appealing blue color scheme. It is durable and made with a foam backing.
Like the other top conversion toppers, The GamePoint is simple to set up and is constructed to a high-quality standard. It's 10lbs lighter than the Joola and allows it to be more comfortable to move around your home; however, you'll likely require two persons. The high-end construction and sturdy design will ensure it'll last longer.
In addition, most importantly, the GamePoint performs well. Its surface is comfortable and fairly steady, even for advanced players. It comes with a high-performance black net, meaning all you need is two paddles and a ball to begin playing.
As with the Joola GamePoint, it also has a GamePoint protected by an EVA foam back. This allows you to keep the table and conversion top in good shape without compromising the playing surface quality. It can also fold and has a different locking system that doubles to secure it during non-use.
It's slightly more costly in comparison to the Joola. It's still an excellent value because it's a great topping.
#5. Rally & Roar Conversion Top
Specifications:
Dimensions 9 5 feet
Time to the assembly under 5 minutes
Table surface thickness 15mm (5/8)
The weight – 103 lbs
The price is $USD
Our score 9.1/10
We didn't have any idea about Rally & Roar until looking at this conversion table; however, it received highly positive ratings on Amazon, so we decided to check it out. It appears to be a table packed with all the features you'd expect. It can be split into two pieces and snaps together with ease with 5/8" of thickness on the surface and an extremely thick 3mm foam backing that will prevent damage to the table that you're mounting it over.
At just over 100lbs, it's quite a heavy ping pong pool table top, yet it feels sturdy and durable, which is great. However it's a must to have two people set it up. This comes equipped with web and some posts, which aren't exactly the most impressive nets we've encountered. We would suggest replacing them with a better net since we don't believe it's likely to last long. However, overall it's not bad, and, considering the cost, is a good value for money.
#6. STIGA Premier Table Tennis Conversion Table Top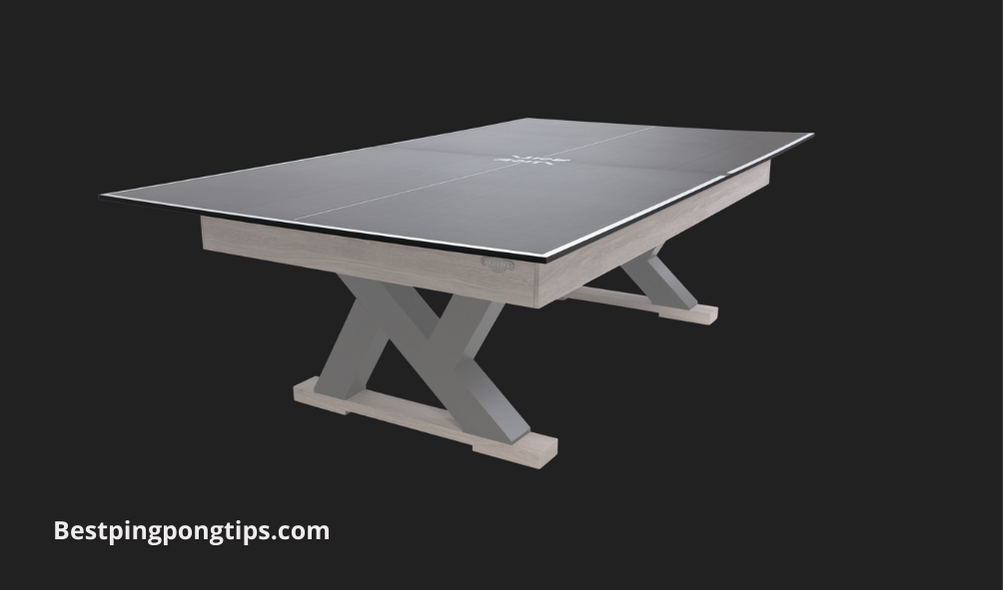 Specifications:
Dimensions 9 5 feet
Time to assembly less than 5 minutes
Table surface thickness 13mm (1/2) 
Weight 90lbs
Price $USD ( Check the latest price on Amazon)
Our score 9/10
The most well-known indoor table maker, STIGA, recently launched their premium top conversion product. It's not a disappointment!
Inspired by Martin Kilpatrick, it comes in an excellent charcoal color and is ideal for all tables and designs.
Its STIGA convert top measures five-quarters " (15mm) in thickness and features a bounce comparable to indoor tables, with the same size. This pool table conversion top uses repeat roller coating on the surface, which STIGA claims can increase responsiveness. This is a method that is used on similar STIGA tables. The bounce isn't the best for class but isn't the worst we've seen either.
The table is constructed from an MDF mix, but it weighs in at a hefty 110 pounds. The thick EVA foam covering the entire backside makes STIGA a solid and stable tabletop.
The tabletop is two-half and is equipped with a net and a post set so that you can start playing as soon as you can. Do not expect too many things from this set, however. We suggest you purchase an alternative set since the screw clamp could be causing problems.
A good option for those who are mostly on the pool or the sometimes table tennis match.
#7. JOOLA Tetra 4-Piece Ping Pong Top for Pool Tables
Specifications:
Dimensions 9 x 5 feet
The assembly time 3 minutes (it comes mostly preassembled)
The thickness of the surface 12mm (1/2)
Weight 85 lbs
Price USD ( Check the latest price on Amazon)
Our score 8.9/10
The next ping pong table conversion top is the JOOLA Tetra Tabletop for Ping Pong. It's a 9×5 foot regulation-sized tabletop that can be placed over a game of air hockey, pool, and even on a dining table, provided they're at least 7 feet by 3 feet. It's easy to set up and is ready to go in just three minutes! It's composed of two distinct halves, and each half folds down to create a compact design that is easy to store when not used. The table's surface is 12mm thick, which is less than we'd prefer to be able to. It's perfect for very casual games, however the bounce may not be top-of-the-line for more of a professional player; we would not recommend this model.
To summarize, the Tetra is a practical, extremely low-cost (the cheapest top we've looked at) choice for those looking for a basic conversion top to play Ping Pong fast. Due to the cost, however, it's not the top quality, and, unfortunately, the surface measures only 12mm, which is too thin. A few customers had also complained that it was damaged when it arrived; however, the Tetra is a popular choice.
#8. EASTPOINT Sports PING PONG CONVERSION
Specifications:
Dimensions 9 5 feet
The assembly time less than 5 minutes
Table surface thickness 12mm (1/2) thickness of table surface
The weight is 85.5 lbs.
Price $
Our score 8.4/10
The EastPoint Sports Ping Pong Conversion Top is sure to please you with its price and the quality that typically will never be offered at this price.
While it's intended for use as a recreational table, the table is semi-permanent and is available in a standard dimension of 9 x 5 feet. After taking it out of the box, the only thing to do is place the top onto any table with similar dimensions in your home. You can then turn it into an elite Ping-Pong table for your games.
The surface is expensive due to the material made of durable and high-quality engineered wood. It's 0.47 inches in thickness, and this increases the durability and strength of the surface and gives a great, consistent bounce.
The entire top is broken into four pieces. Since it weighs only 85.53 pounds, you can remove it and store it with no difficulty.
A post set as well as a net is as well. Therefore, you can immediately begin playing once you've unpacked this top for conversion.
#9. STIGA Duo Table Tennis Conversion Top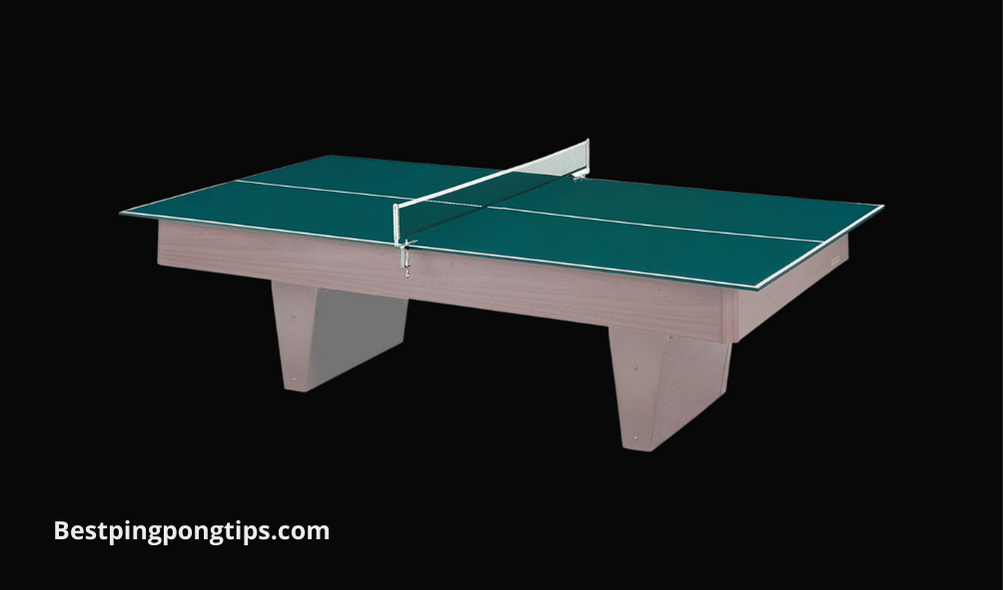 Specifications
Size 7 to 8 feet in length.
Sponge rubber stripes to guard the table
Side strips that make sure it is properly aligned
Fits 7-Foot and 8-Foot Pool Tables
Half " deep dark-green top, surrounded with 30" steel center-mounted supports
Side stripes aid in aligning the top
Net 66 and post set includes
Our Rating 8.2/10
They make all sorts of equipment, including paddles, tables, nets, tops, and bottoms. This top for conversion made by STIGA is very high-quality.
STIGA Duo Table tennis top is an elegantly designed product. Its sides top feature strips that help support the top. These strips assist in aligning the top properly so that you have the smoothest surface with any bumps. The top aids in having an excellent bounce. While the top's thickness is just 1/2," it's constructed and designed to ensure that the top will always have an even and smooth surface, allowing for a smooth and tense Pong ball hitting the top, a great bounce.
This conversion top is appropriate for all the sizes on the pool table. It can fit on the 7 and 8 feet table. Apart from the pool table, you can put it on any table and begin playing ping-pong.
There is no net set with this top, so it is your responsibility to buy it on your own. When you purchase the net set that will fit this top, be sure you choose a set that doesn't attach to the table. If you connect the net with the table and it gets damaged, it can cause damage to the table. Many nets are connected to the table's top. Make sure you purchase the suitable net set so as not to cause damage to the table.
On the top is a foam backing that protects the table's surface where this top will be placed. It's easy to set up, and you can fold it up to put it away wherever you like.
#10. VIPER 3-IN-1 PORTABLE TABLE TABLE TENNIS TOP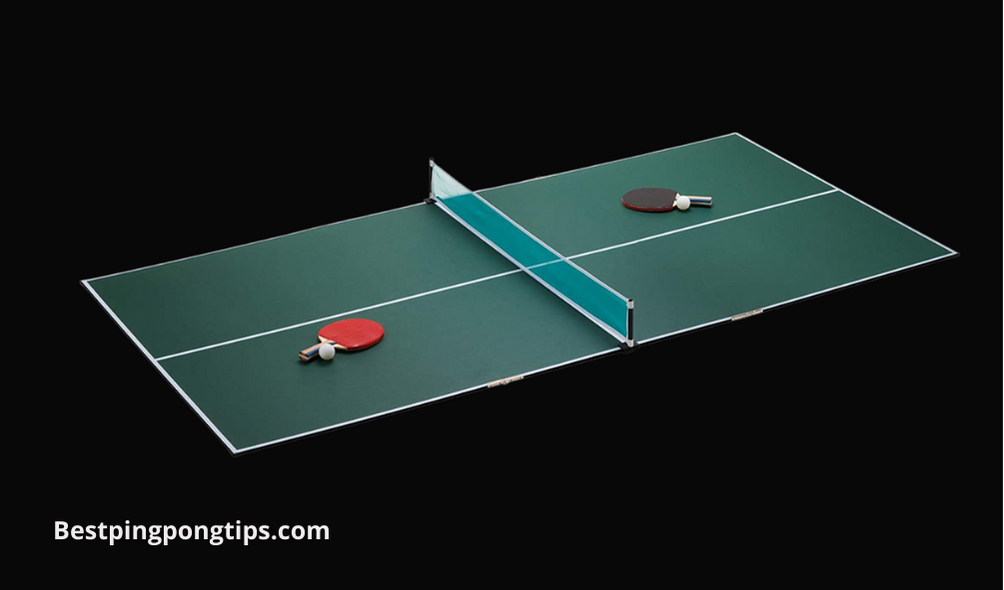 Specifications:
Dimensions 9 5 feet
Time to assembly less than 5 minutes
Table surface thickness 6mm (1/4") thick table surface
Weight 28 lbs
Price $ ( Check the latest price on Amazon)
Our score – 7.5/10
The last portable ping pong conversion set that we'd like to showcase is this one made by Viper. We've conducted plenty of tests to test the capabilities of this device and have concluded that its performance is not lower than the other models that are on this list.
This top is constructed with a medium fiberboard core which adds strength and toughness to withstand hard impacts.
It is essential to keep in mind is that this conversion top is in the compact category. It measures just 42 inches, 84 inches, and 1/4 inches of length and width and height and height, respectively. Its weight is quite impressive too, with just 28 pounds.
The top will not cause any problems in transportation due to its lightness. However, it comes with a cost. You can't expect it to bounce above the appropriate levels due to the absence of density.
The bright side is that because this is a 3-in-1 entertainment device, it can be used as a multi-surface to play various exciting indoor games like checkers, chess, and backgammon.
Step By Step Conversion Top Ping Pong Tables Buying Guide
Before buying any ping pong table, you must know about the table quality, dimensions, etc. So that you can choose your Best Ping Pong Table Top and make your game next level.
What is a Conversion top?
First, we need to know what a ping pong conversion top is. Ping pong tables with no legs and frames are used for pool table games called conversion tops. These tables allow you to play different games like table tennis pools, and even you can use these tables as a dining table. The major benefit of these tables is that you don't need to buy 2 and 3 tables for your room, which helps you save room space. If you want more fun without losing space, purchase a multi-game table to play more than 12 games at one table.
Choose a ping pong table top for pool table?
When it comes to picking a ping pong top for the pool table, it is not easy. Not all table tennis conversion tops are constructed equally, and there are tons of features you need to check to get more value from your spending money. The things that you need to keep in mind while purchasing a table are:
Table Dimensions:
The first thing you need to think about is the size of the ping pong table top of your pool table and the table you'll be placing it on. The final thing you'd like to avoid is to buy the top for conversion to ping-pong only to find that it's either not fitting or too big to the table that you're planning to put it on. Every top for conversion has minimum dimensions compatible with the table, so take your tape measure and find out what the recommended dimensions are before you click the buy button.
Thickness of the top
One of the main features of any ping-pong table is the thickness of the table's top. This influences its bounce: ball, and the greater the thickness of the table, the better the ball bounces. Official tournaments are played on 25mm (1 1) tablets and will not play with any less than this. Conversion tops are much thinner than this since they're targeted at those who don't want competition-level gaming.
We recommend at least 15mm (5/8 inches) thick table for casual play games because anything less means that the ping pong ball won't bounce properly. The tables with higher prices tend to be thicker; however, we would recommend getting as big as you arecan afford.
Foam pads or foam backing
A key aspect of a ping pong table topper is its PVC EVA foam padding or pads on the bottom. This helps protect the table you're placing onto to stop it from damaging or scratching the surface.
Do not buy one without this, as they're a mistake. Conversion tops can be quite heavy and move a little bit when people bump into them during games. They can slide around and could scratch the table it's being placed on. When the backing of the cushion is damaged or wears out, be sure to replace it as well.
Weight and Assembly.
Most tops weigh between 100 and 130 pounds and are easily moveable without an additional person. To facilitate portability, some models (such as the STIGA ST1100) can fold into quarters, whereas others are constructed from two boards. If you plan on shifting the top, choose the lightest option and an option that folds.
Net
The last thing to consider is the net that you put on your ping-pong conversion top. The toppers we recommend include one; however, they might not be as good.
Brands
Regarding what brands produce the most effective tops for conversion, we suggest you go with a well-known table tennis company like JOOLA, STIGA, or Butterfly. However, some decent conversion tops come from brands that aren't widely known in table tennis, such as Martin Kilpatrick, who make an extremely popular top for conversion.
Quick Ask Questions
Can You Buy Outdoor Tops?
There aren't many options for outdoor ping-pong table conversion tops. The majority of toppers are made for indoor use. Therefore when you're looking for an outdoor playing surface, you'll need to buy a table that is complete because indoor material is easily warping in humid conditions. Go here to see our top choices for outdoor play.
What Material is the Top of a Ping Pong Table?
All top-converting ping pong tables make use of wood as their playing surface. This ensures that the ball can bounce consistently and at the appropriate level. Certain outside tables utilize different materials like metal and resin, but the bounce is not as good as wood.
Can You Put a Ping Pong Tabletop on a Regular Table?
Most of the time, the answer is yes! Ping-pong tops aren't only used for table tennis. They are also an assortment of other furniture. Pay attention to the dimensions of the table you're working with. Ideally, you do not wish to make it too tiny or big. It should be close enough to the net to catch small balls. In the same way, you do not want the top of the conversion overhanging too much the table beneath it because this could cause it to become unstable. Be aware of what net you are using. If you're using a clip-on net, it requires a bit of an overhang to attach.
What is the size of a Ping Pong Tabletop?
The majority of ping-pong tabletops are fully-sized. That means they are 9 x 5 feet. This means you can play Table Tennis and perform every type of shot to the max.
Is it Easy to Setup and Remove a Ping Pong Conversion Top?
The procedure is easy. In contrast to table tennis tables that typically require assembly, ping-pong conversion tops require virtually no. In most cases, you have to unfold the top of the conversion, place it on your table, and then put the net on it. This will take about less than five minutes here. It is true that with the models you have, it may have to stick on the foam pads to be able to stick them before you can use them. This will take about an hour or more. Moving the table is as simple. Fold the table up once again and put it in place where it won't be damaged.
How Do I Clean a Ping Pong Tabletop?
After many hours of use, your top may become dirty, and it's essential to wash it. Cleaning a ping pong top like you could clean a normal table. You can do this in various ways, but one thing to be sure to avoid is using harsh chemicals since they can cause damage to the surface. We suggest using a dilute vinegar solution or plain old water to clean the top of your conversion of grime.
How Do You Replace a Ping Pong Tabletop?
If your tabletop for ping pong gets damaged even though it's still covered by warranty, just contact the manufacturer. They will either reimburse you or provide an exchange. If a warranty does not cover your top, you'll have to purchase a replacement. It is possible to salvage a few parts for the new model, such as your foam back and the net.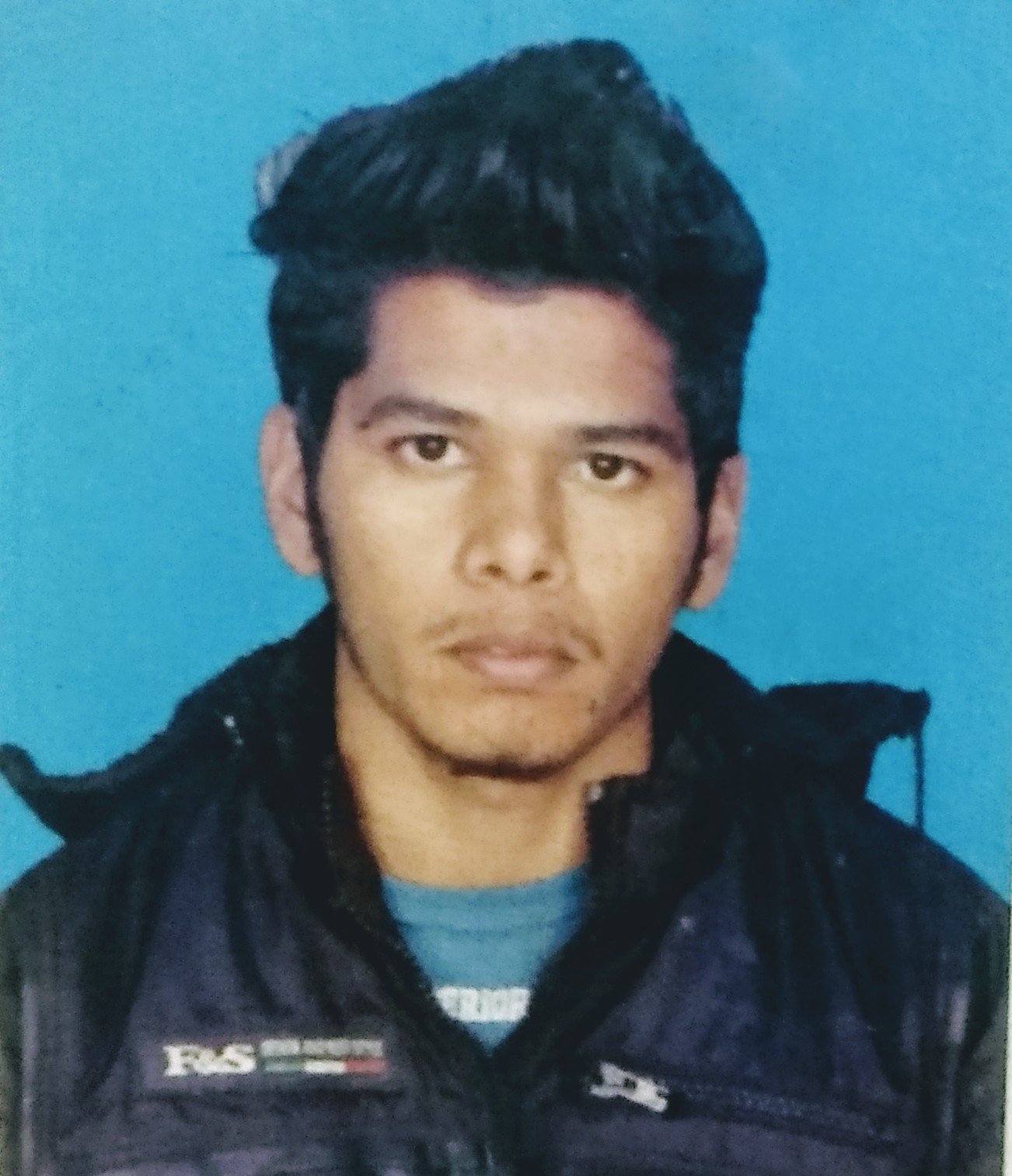 I am Sachin, a content writer, and Table Tennis enthusiast. On the Bestpingpongtips site, I share ping pong tips, give my honest Table tennis equipment review, and help people choose a quality product.