If you are searching for a good and professional ping pong table, then it's time to give a pause to your search. STIGA advantage offers you an indoor competition-ready ping pong table with a quick 10-minute assemble design, making it better than other ping pong tables. If you are a beginner or have just started learning table tennis and are looking for an alternative that will serve your purpose, then the below STIGA Advantage Table Review will help you make your best choice.
Let's quickly dig into Stiga advantage ping pong table reviews without wasting much time.
Also check
STIGA Advantage Table Review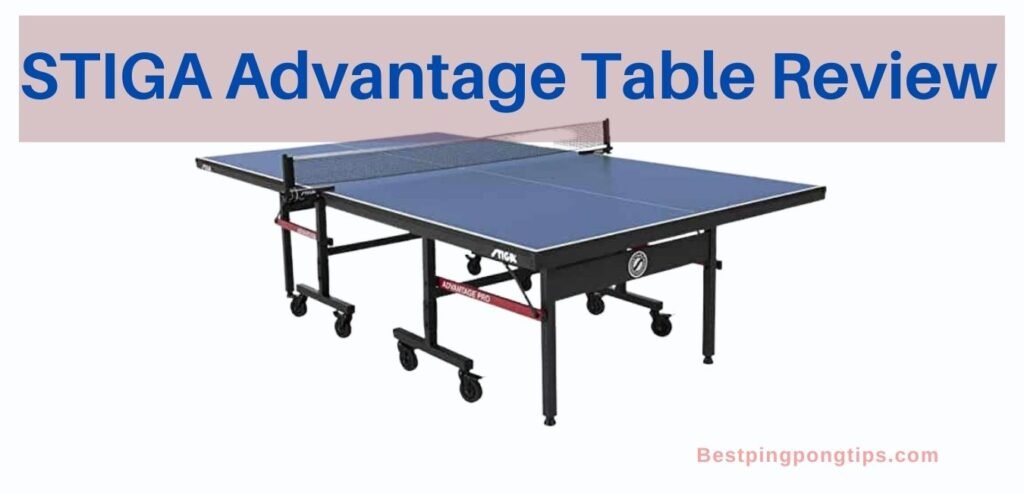 STIGA Advantage Features:
Stiga advantage ping pong table has a 5/8 inch(16mm) thick playing tabletop.
Adjustable feet with rubber coverings so that it doesn't damage the floors.
It has multiple roller coat finish and silk-screening striping.
Stiga Advantage indoor table tennis table has dimensions of 63 x 56 x 5 inches.
It requires only 10 mins of assembly time with a 95% pre-assembled set.
Stiga advantage table has easy to attach and removable net with tournament grade 72'' clamp-style net and post set.
Easy transportation of table halves using 3'' lockable casters for convenience.
This ping pong table provides you with a great feature to play in playback position by folding one half and using it as a rebound wall.
For the latest price visit
Stiga Advantage Vs Advntage Pro
Stiga advantage table tennis table has 5/8''(16mm) thickness. It is designed for beginners to start their journey of table tennis. It is an excellent option to practice or play with friends and family, whereas the Stiga advantage pro table has ¾'' (19mm).
Strong Durable Frame
Stiga advantage table tennis has 1.2 inches (30mm) stout steel legs. Also, on top of it, the coat of premium black matte power makes it look prominent. In advantage pro, there are slightly thicker legs of 1.5 inches (38mm) to support more weight of the thicker table surface.
Unbelievably quick set up and assembly
There are many tables tennis that require plenty of time to mantle it first. That is time-consuming and frustrating, which may also require more persons available for arrangement. But the STIGA series has already offer you 95% pre-assembling. The remaining 5% consumes only 10 minutes of your time that is unbelievable. You need to attach 8 bolts to the legs, and you are at your get set go time.
Great portability and easy to store
Storing an indoor table tennis table can be a big problem, but in STIGA, it's pretty easy to deal with this problem because of the advantageous two halves, which make it easy to fold. Infarct the storage dimensions are only 60 inches x 28 inches. Also, the eight 3'' caster wheels make its transportation super quick and easy. You need to roll each half and store it o the desired place as PRO is a little heavier than ADVANTAGE, so it has 4'' caster wheels.
Playback position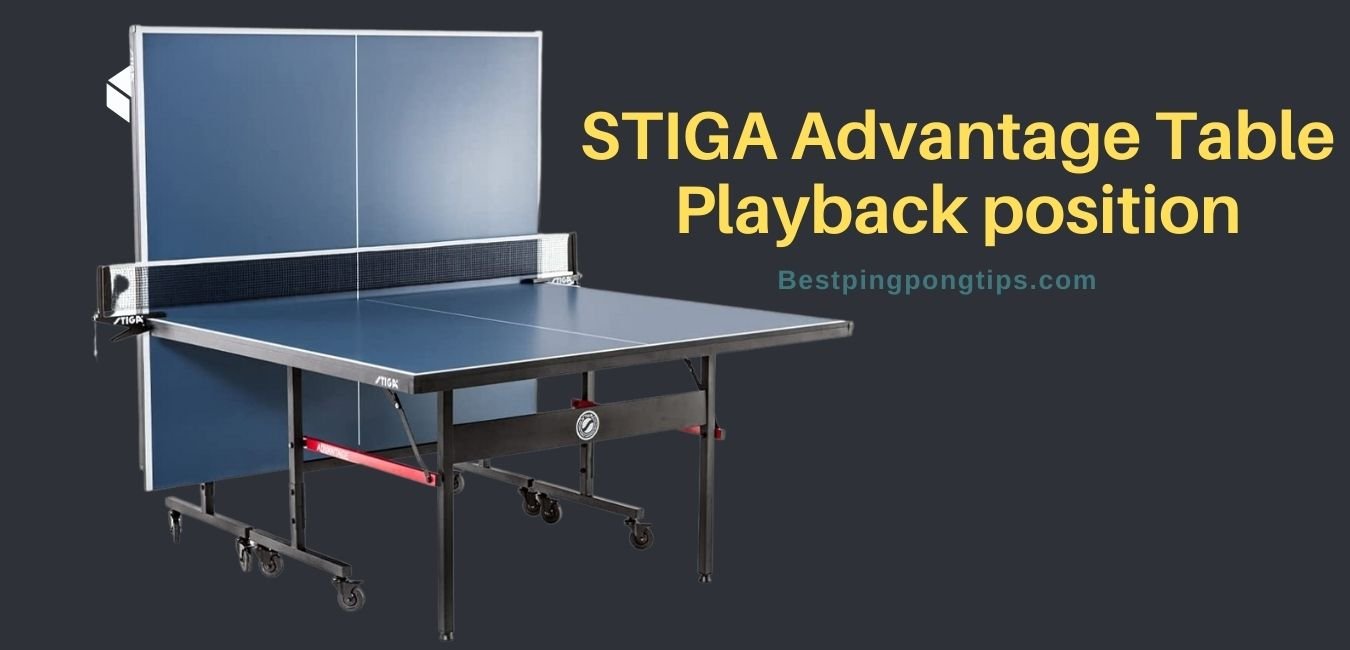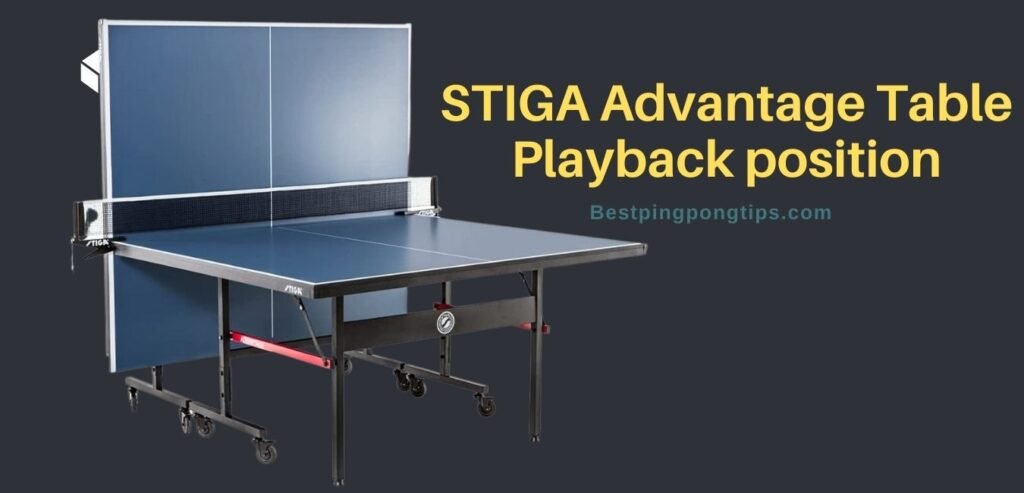 It is not possible to always have two persons available to play. What if you want to play or practice and another person is not available? Now this problem is easily solved by Stiga advantage tables just by folding one half up and using it as a rebound wall or your opponent, and this will turn out like bliss for you.
72″ Clamp-style net
Table tennis net also plays a vital role in a game but receiving cheap quality net and post spoils your game and mood. But still has lived up to the expectations by providing a high-quality net and post, which is super adjustable. The position comes with a clamp-style attachment that makes removing, installing, and storing it hassle-free.
Stiga Advantage Indoor Table Tennis Table Pros And Cons
Pros
Playback position
Portable
Locking casters
95% pre-assembled (consumes only 10 min in assembling)
Easy to store
Good quality net and post included
Affordable
High-quality table
Cons
Not professional level thick tabletop
Only for indoor use for beginners, friends, and family
Final Thoughts:
Considering the whole Stiga advantage table tennis table review with so many pros, especially with the affordable price range it makes Stiga advantage indoor table super unique. With just a few cons, I recommend the STIGA ADVANTAGE table to those who want to learn ping pong or are in the learning process. I also recommend the Stiga advantage table tennis table for the people who want to buy a table for having fun with their family and friends. This will be the ideal good quality table for you.
Are stiga and joola the same company?
No stiga and joola are not the same company although they have many same features quick assembly play of Stiga makes it more considerable.
What is a Stiga Ping Pong table made of?
Its base material is made of Alloy steel, and the frame material is also made of Alloy steel
How much is a ping pong table worth?
The average ping pong worth should fall in the range of $150 – $400 for indoor and $400 – $700 for outdoor.
Which is the best table tennis table?
There are many best options available in the market. Still, STIGA ADVANTAGE INDOOR TABLE TENNIS TABLE is one of the best table tennis tables for beginners, intermediate, and fun-level games.
What Are the Table's Dimensions?
Play position – 63 x 56 x 5 inches 
Playback position – 60 x 66 x 64 inches
Storage position – 60 x 28 x 64 inches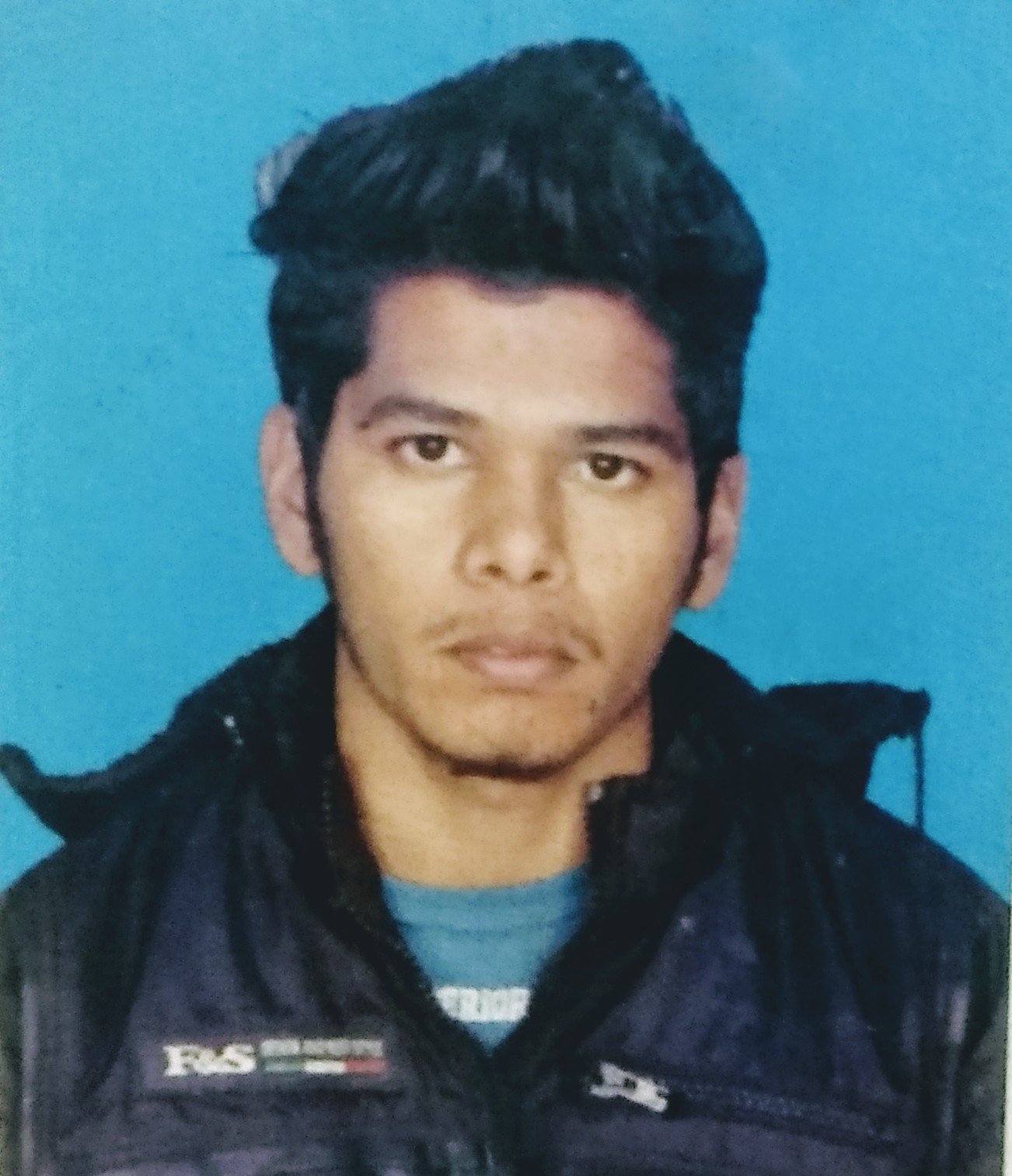 I am Sachin, a content writer, and Table Tennis enthusiast. On the Bestpingpongtips site, I share ping pong tips, give my honest Table tennis equipment review, and help people choose a quality product.