STIGA XTR REVIEW is the panacea for you if you are the one for whom finding an ideal ping pong in a sea of options has become a headache? Have you ever felt unsatisfied after investing your precious money as well as your energy in a ping pong table even after giving your optimum effort? 
STIGA XTR outdoor table will solve your problem with promising weatherproof material, reliable aluminum tabletop, attractive blue color, and most importantly, quick 10 mins assembly. It comes with many more table features, which makes it an endorsing ping pong. Let's quickly explore more about it with STIGA XTR REVIEW, the only review you need.
Also Read:
Step By Step STIGA XTR Review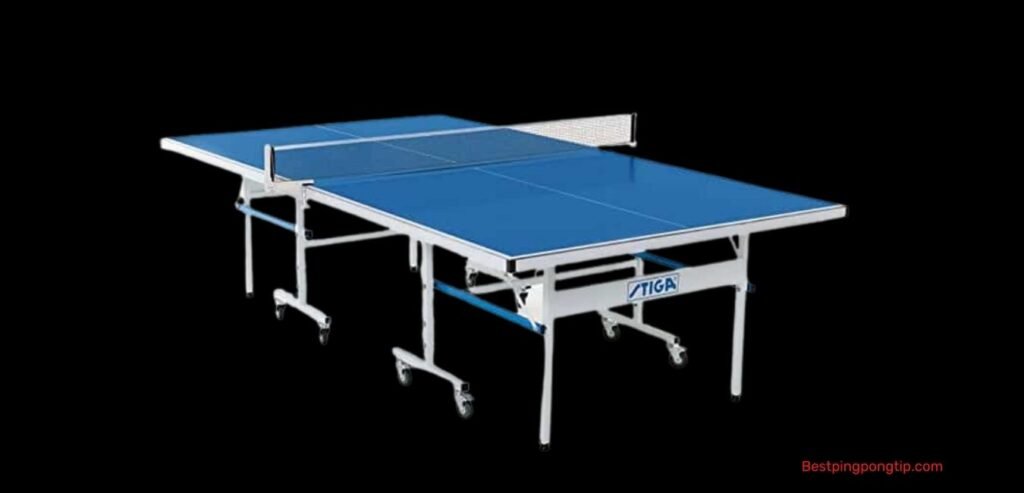 Highlights Of STIGA XTR
It is an outdoor table tennis table 
All-weather performance – Aluminium composite tabletop offers great harsh weather resistance.
Stiga xtr dimensions – 63 x 57 x 4 inches
Smooth storage process by trouble-free folding in super compact storage position with self-opening legs.
Assembly time – 10 min (95% preassembled)
Surface thickness – 6mm aluminum composite surface
Easy to assemble and removable net and post set 
Adjustable heights 
Good quality rolling wheels make it easy to move anywhere
Playback facility available 
It comes with four levelers for proper alignment of the table 
Overview of the Stiga xtr pro-outdoor
Stiga xtr indoor outdoor table can easily sustain the rough weather conditions, including dog days, jack frost days, and damp rainy days. Its aluminum composite table surface has provided an edge for supreme playability. Its stunning blue color will steal your heart on the first go only.
Stiga xtr outdoor table tennis table assembly is of 10 mins only, i.e., it comes 95% preassembled, just some extra efforts are required, and you are good to go with your first game. Stiga professional ping pong table provides excellent bounce on the table. Stiga xtr has also taken care of people who don't have any partner to play along with them.
It's a great option to consider economically with which you will enjoy at the most. Let's make it worth buying for you by checking out some more extra table features.
Extra Features of stiga xtr outdoor table tennis table
6mm Thick Tabletop Surface: If you are thinking of buying outdoor table tennis, the first thing that hits your mind is a sustainable table surface. Stiga outdoor table tennis table provides you 6mm thick aluminum table surface that proves itself not only in humid conditions but also in other harsh weather conditions by providing a decent amount of bounce to the ball. Overall, it gives the standard thickness of an outdoor table tennis table with exterior grade powder coating.
Caster Wheels: The Foldability feature can be used in two ways. When you are done with the game, then you can store it by folding the table. Another way it can be used is by just folding one half and use it as an opponent in the game.
All-weather 72-inch net and post set included: Stiga ping pong table xtr incudes the premium all-weather 72-inch net and post set that allows you to adjust the tension. The thread clamp system makes it easy to put and take it off accordingly.
The Solid Snd Waterproof Frame: Stiga xtr outdoor table tennis table has a robust, durable, and waterproof undercarriage. Its steel legs of 1.25 inches provide the required sturdiness. The self-opening feature of the legs makes it more magnificent.Hight levelers provide an extra advantage to adjust the level of the table by screwing it in or out to get the desired height and proper balance of the table.
Playback Feature: If you want to practice endlessly but not having a partner makes you sad, then not to worry xtr outdoor table tennis has solved your problem with the playback feature, just by flipping one of the halves and using it as your ping pong mate.
Customer Satisfaction: Among customers, it is one of the well-favored outdoor ping pong tables. Reviews on amazon represent the satisfaction they own after buying this classy product. Below is the review by a customer on Amazon. "This table is awesome! Made from aluminum, very sturdy, great-looking surface. As soon as I had set it up, my girls and neighbors had a ball. Pun intended! They played for hours right into the evening hours in 45-degree weather. If you don't own this Table, your kids, family, and friends are not having a great time. 🙂 Highly recommended!"
About Brand
STIGA is one of the most trustable international brands in manufacturing table tennis equipment. Since 1944 it has dedicated its service to avail the best quality ping pong products to the players. Not only for professional players but also for recreational players. This shows how this brand cares for all types of customers.
The brand makes tremendous efforts to produce high-quality products to satisfy their customer's requirements. Amongst players, STIGA has a huge fan base due to its extraordinary quality, looks, and the way it plays.
 It creates a vast variety of both outdoor and indoor table tennis. STIGA XTR series of table tennis, which includes STIGA XTR and STIGA XTR PRO, is one of their appreciable products in the market. 
STIGA XTR: Pros and Cons
Pros:
10 mins easy assembling process
Durable 
All-weather resistant 
Easy to fold 
Easy to move and store
Even bounce on the whole surface of the table 
Levelers for easy leveling of the table 
Playback advantage 
Affordable 
For both recreational and professional players 
Cons:
A little thin table surface 
A bit heavy product
Final Thoughts:STIGA XTR Review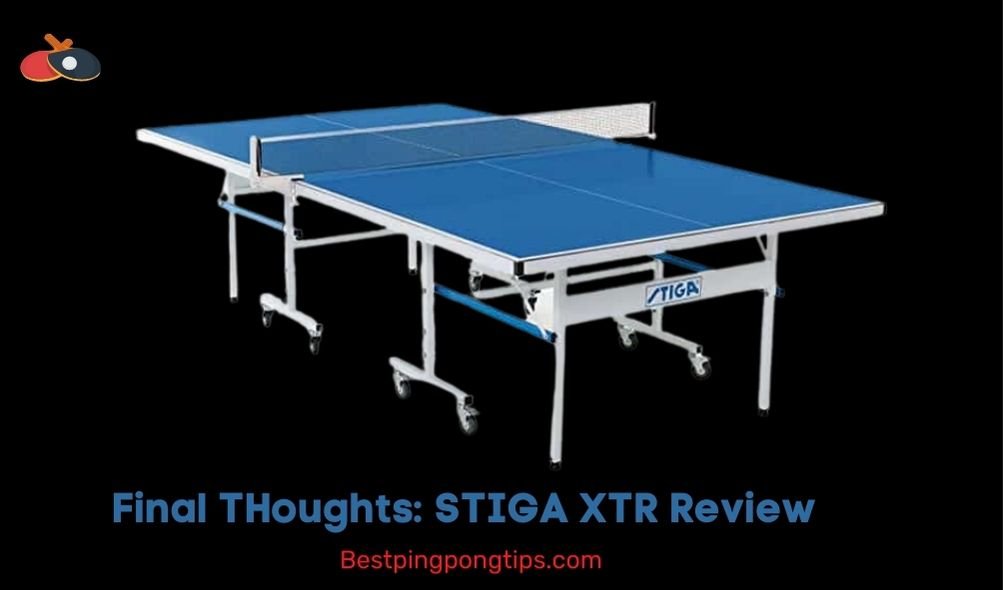 Stiga outdoor ping pong table is simply a stunning, classy product. Summarizing Stiga XTR in a few words, it is an outdoor table designed with tons of features like fantastic build quality, water and rust resistance, easy portability and storage, great caster wheels with lock facility, decent bounce on the playing surface, and the list goes on.
According to STIGA XTR Review, it must be easy for you to decide the right ping pong. Don't miss a chance to get such an affordable product which is a steal deal. So, grab this excellent product with top offers on amazon.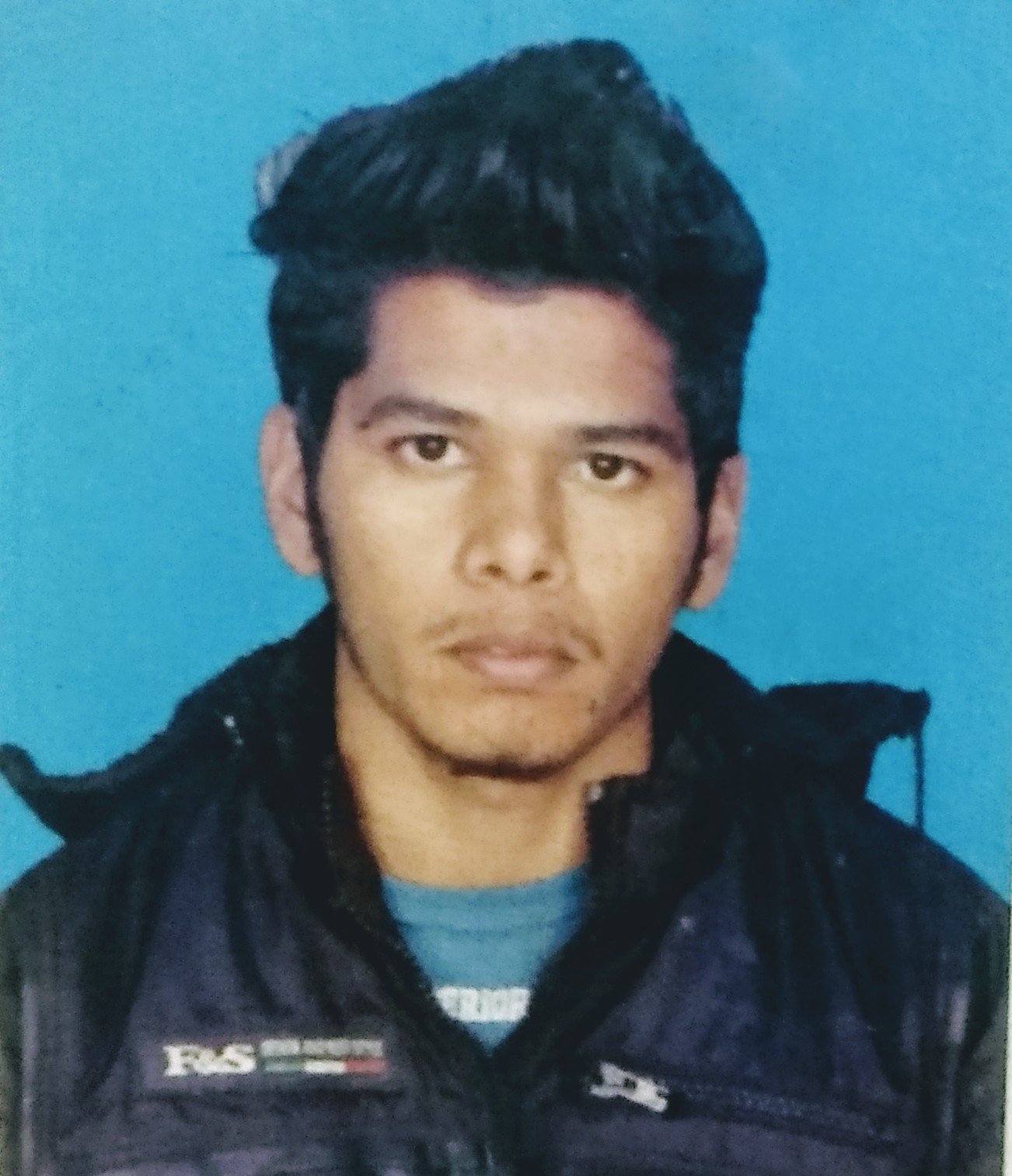 I am Sachin, a content writer, and Table Tennis enthusiast. On the Bestpingpongtips site, I share ping pong tips, give my honest Table tennis equipment review, and help people choose a quality product.