The JOOLA Tour 1800 Ping Pong table is a mid-priced table tennis table designed for people who want to have an average table. However, it is not necessarily ITTF certified tournament quality. We will do a full JOOLA Tour 1800 review and discuss all the essential elements for performance and portability.
The table's surface is 19mm thick. It isn't bad; however other tables are bigger at the same price. The table is quite good. Visit this link to view our top tables.
JOOLA is a trusted company; they're among the most popular manufacturers of Ping-pong tables around the world. Concerns and complaints from customers were dealt it with a prompt resolution, and they're always ready to solve any problems.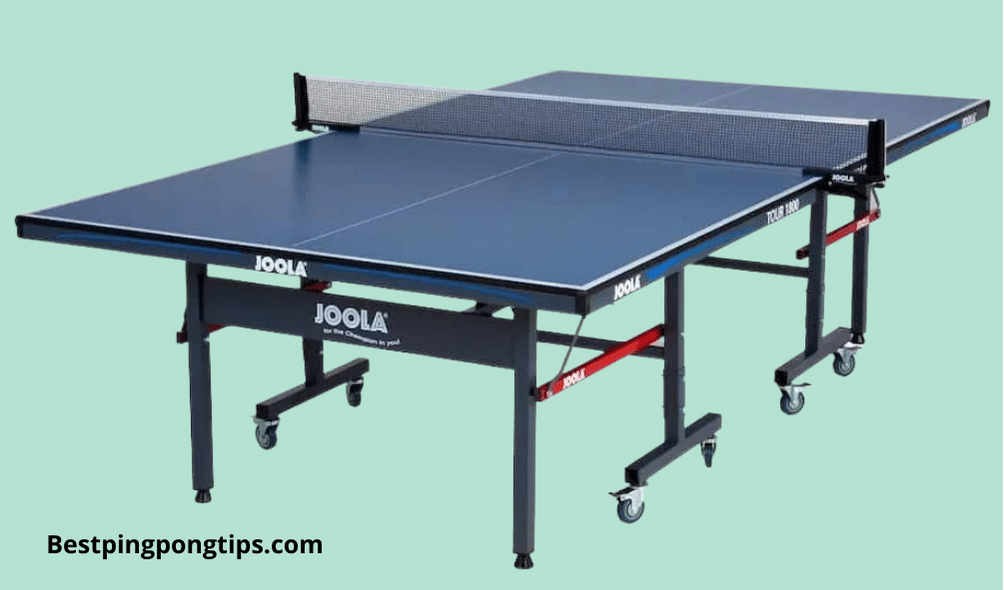 JOOLA Tour 1800 Specifications
| | |
| --- | --- |
| Surface thickness | 18mm |
| Assemble time | 15 minutes |
| Weight | 185 lbs. |
| Table Dimensions | 9ft x 5ft |
| Playback-mode | Yes |
| Storage | Compact foldable system |
| Height levelers | Adjustable for feet |
| Net system | Screw-on net |
| Price | $(check Current Price) |
In this review, we'll focus on the primary components of any table and how it ranks in terms of functionality, storage transportation, performance and functionality. These are the main key points we'll cover:
Tabletop
Assemble time
Storage
Playback feature
Wheels
Height levelers
Net system
The brand
If you're interested, we've created the complete best table tennis table buying guide here to assist you in deciding the table that suits your needs the most.
Table Surface
A medium-density 18mm with a painted surface gives players solid bounce. This table offers enough bounce when you're looking for a table for fun with the family.
Surfaces are protected with multilayer paint that helps to protect against warping and chipping.
The surface is secured by a solid powder-coated steel frame and an undercarriage of 40x40mm that protects against wear and tear.
Table Assemble time
The Tour 1800 comes completely assembled. All you'll have tight eight bolts to join the table's legs. That means you'll be able to play in just a few minutes.
It's always a benefit of 95% pre-assemble when purchasing an entirely new table because assembling a table is highly tedious.
Table tennis Storage
The table is available in two halves compactly folded to form one. This means the table can easily be put away in smaller spaces when it is not being used.
Each side of the table is equipped with a trundle system with four locking caster wheels in each. It will ensure that the table is transportable and locked securely.
Playback single play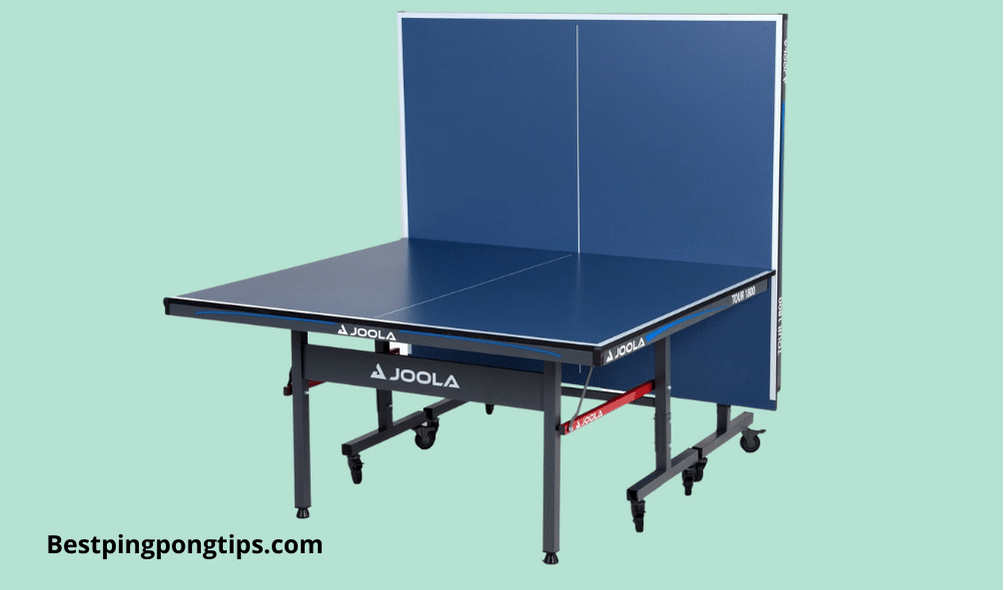 This joola ping pong table offers complete playback capabilities and is made possible by folding one part of the table to the storage position and leaving the other half of the table in play.
The locking of both sides of the table will ensure an unshakeable and stable table throughout your training sessions.
Wheels
Each table comes with a trundle mechanism that has 4 inches locking wheels casters. This makes it easy to move to and from a location and a stable locking during games and storage. The anti-tilting system also provides secure and steady mobility.
Height levelers
Height levels that can be adjust on each leg that folds automatically ensure you'll be playing on the perfect level table. It is an essential element for any table.
Joola Net system
A high-quality tournament screw-on net includes the Tour 1800, the perfect net for long-lasting and durable games.
The net system is updated from an earlier clip-on system, but it's not as robust – but JOOLA customers have been heard.
The screw-on nets have more durability, and you won't have to change the size of your net to tighten it for games nearly as often.
The brand: Joola
JOOLA is a highly respected table tennis brand, and they're among the top in the world of tables. They've been the official sponsor of many events, and their reputation is unquestionably impressive.
The joola quickly became one of the biggest companies within the United States and has started sponsorship of some famous players like Lily Zhang.
Pros
Tables of 18mm thick provide adequate bounce and durability suitable for home use
Playback feature
15-20 minutes assemble process
Compact storage for easy storage, with the compact folding system
A high-quality nets system is included.
Wheel locking systems for locking casters ensure safe and easy transport
The frame's thickness provides excellent protection
Budget-friendly
Cons
18mm might not be strong enough to support more advanced players.
There is no ball or paddle storage.
Other models from JOOLA Tour series
There are two more models within the JOOLA Tour series that you might be interested in. If you're want to save money on an alternative, then you might consider JOOLA Tour 1500. It has a smaller surface layer and does not have as smooth of bounce as it does with the Tour 1800, but that's to be expected.
If you've got some extra money to invest in your table, then you should consider this JOOLA Tour 2500. It features a 25mm (1 1") thick table surface and is one of the highest bounces you can find from the table. It's our top recommended table! For more information about this table, read the JOOLA Tour review here.
The Final words: JOOLA Tour 1800 Review
If you're a beginner or someone looking to improve their skills, this JOOLA Tour 1800 is a good option. It doesn't offer the bounce that you would expect from an elite or competitive table; however, most players don't want it. The table has received dozens of positive reviews, and we strongly recommend it.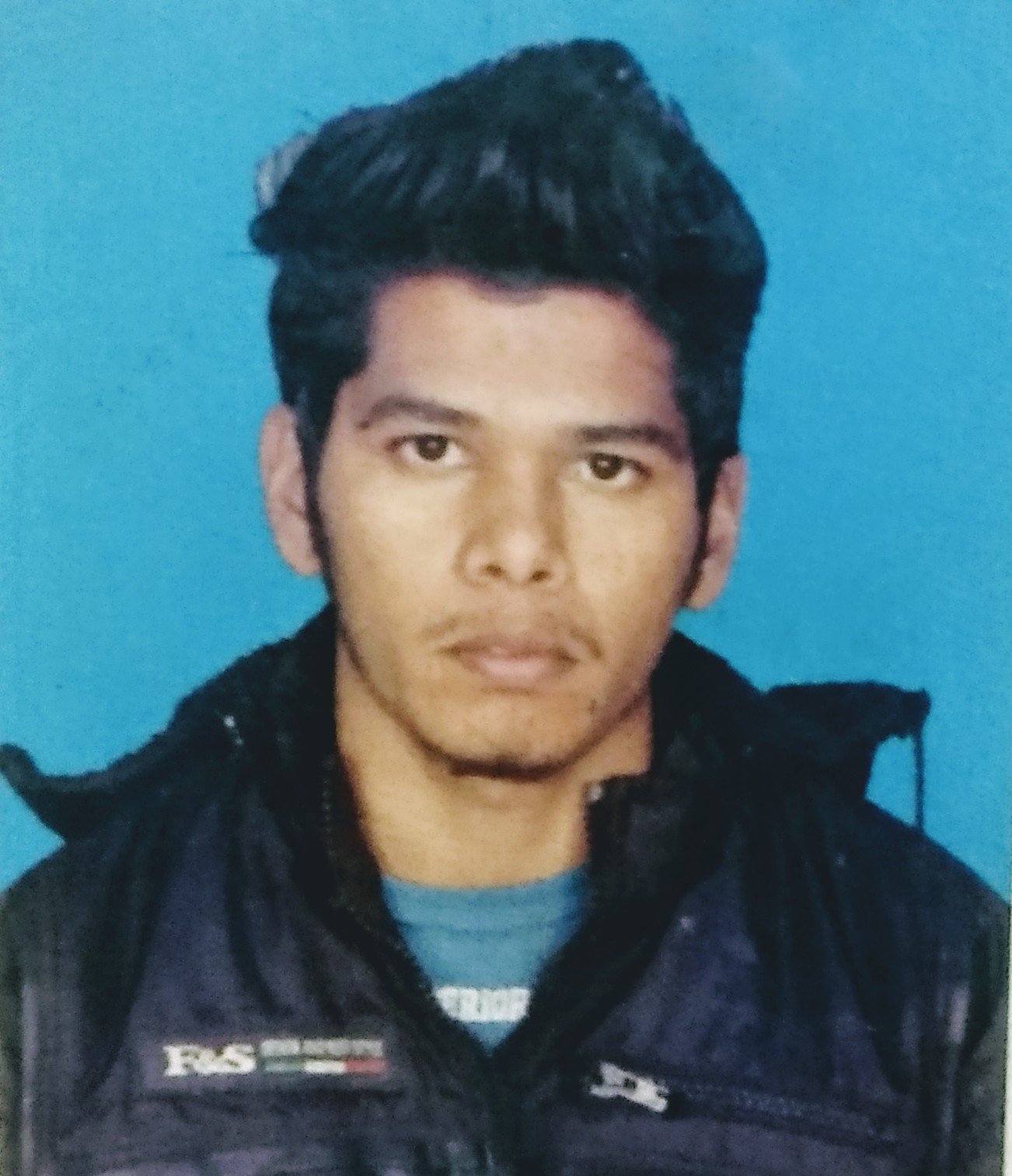 I am Sachin, a content writer, and Table Tennis enthusiast. On the Bestpingpongtips site, I share ping pong tips, give my honest Table tennis equipment review, and help people choose a quality product.